Fossil Free Marine Has Filed for Patent and Design Protection for New Unmanned Marine Station for Renewable Fuels
(Fossil Free Marine/MyNewsDesk.com) Fossil Free Marine today announce it has applied for both patent and design protection for its newly developed unmanned floating marine fuel station. This comes after several years' development work, based on proprietary environmental and risk analyses and certifications performed by a well renowned global certification body resulting in a groundbreaking product in the marine segment. With this solution Fossil Free Marine target the large global market of privately owned and commercial boats <60 feet.
Compared to existing technology, the new marine fuel station from Fossil Free Marine offers several distinct advantages, in combination essentially setting a new world standard in safe and environmentally friendly storage and distribution of liquid fuels, including modern drop-in biofuels.
- I am beyond thrilled that we have come to this point in our journey, that started almost ten years ago, when my co-founder Niklas Sjöö made the first designs for a completely new type of marine fuel station. During that time, the world has developed in a direction where sustainability and solutions that minimize climate impact have become increasingly important, says Karl-Oskar Tjernström, co-founder and CEO of Fossil Free Marine, and continues;
-The marine sector has meanwhile, with a few notable exceptions, almost stood still. Our breakthrough solution offers the marine sector a quantum leap into the 21stcentury, encompassing technology hereto only found in the latest land-based fuel distribution infrastructure. When rolled out at scale, our new marine fuel station bridges the gap between suppliers of modern renewable drop-in biofuels, and boaters wishing to dramatically reduce their climate impact. We can literally make boating sustainable. Right here. Right now."
The first and second units, scheduled for production and installation in prime locations near central Stockholm during the second and third quarters of 2022, are partly funded by Swedish Government investment grants. The grant scheme, labelled KlimatKlivet ("The Climate Leap") is for "incremental costs associated with supplying renewable fuels". In their motivation, Naturvårdsverket (the Swedish Environmental Protection Agency) says that the initiative is "…among those that exhibit the highest sustainable reduction in greenhouse gas emissions per invested krona (SEK)".
- Our new marine fuel station, years in the making, is designed based on a risk analysis, performed by one of the leading certification bodies within shipbuilding and marine safety, identifying all potential risks and hazards associated with existing marine stations. This forms the basis for the design, where every single element is designed with a purpose – to set a whole new world standard in safe and environmentally friendly storage and distribution of fuel to boats.
By using composite technology, originally from the military naval industry, we achieve numerous advantages, such as low weight, high internal volume and compatibility with any type of liquid fuels, like renewable diesel, biogasoline or even coming e-fuels, and it will deliver for at least another 50 years, says Niklas Sjöö, co-founder of Fossil Free Marine.
Facts:
Hull construction in military composite
Length: 24 m, width: 4,3 m, weight appr. 35 tons (empty)
Internal volume: 60 m3, distributed across six separate tanks of 10 m3 each
Designed and built in Sweden, by major composite shipyard
Fully unmanned operations, 24/7/365
Key advantages:
Constructed from the ground up for fully unmanned operations, 24/7/365, in compliance with regulations for land based station
Complies with even the most stringent environmental safety regulations, e.g for freshwater reservoirs, and provides a future proofing for coming regulations for other sensitive marine environments.
Increased volume capacity enables more profitable operations, due to improved logistics and lower risk of out-of-stock.
Construction is future proofed from an environmental and safety perspective, and well protected from fuel theft, with all piping securely below deck, beneath a single locked access hatch.
Enables increasing the number of fuel qualities, allowing the operator to more closely follow changes in consumer demand, e.g offering smaller volumes of more niche fuels, such as specific biofuels, while maintaining financially viable operations.
Stays level even with varying tank volumes, thus ensuring safe operations as well as giving reassurance to end customers.
Tanks are compatible with all types of liquid fuels, including more corrosive modern biofuels, making the product future-proofed.
---
Fossil Free Marine is a Swedish impact scale-up, committed to enabling and facilitating sustainable boating on a global scale, through infrastructure solutions that allow financially viable, safe and environmentally friendly distribution of renewable drop-in biofuels, and marine superchargers for fast charging of future electric boats.
The business model is scalable, profitable and highly impactful and can make boating sustainable, all over the world. The company was founded in 2019, has finalized its first pre-seed financing round as well as received two grants from the Swedish Government. Fossil Free Marine is a member of the Impact Start-Up Hub Norrsken House READ MORE
Fossil Free Marine and Swede Ship Composite has entered into agreement on production of a world's first, unmanned and fossil free, marine fuel station. (Fossil Free Marine)
Fossil Free Marine launches first ever DNV assured marine fuel station – taking environmental safety to a new level (Fossil Free Marine)
Fossil Free Marine partner with OKQ8 for launch of world's first unmanned marine station (Fosil Free Marine)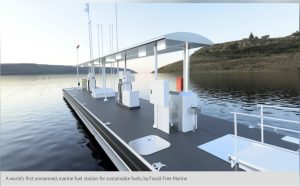 Tags
Share
More than 40,000 articles in our online library!
Use the categories and tags listed below to access the more than 40,000 articles indexed on this website.
© 2008-2023 Copyright Advanced BioFuels USA. All Rights reserved.