Japan's First Biofuel-Hydrogen Tourist Ship to Set Sail in 2024
by Junya Hemmi (Nikkei) Japanese marine shipping company Mitsui O.S.K. Lines plans to put the country's first biofuel-hydrogen tourist vessel into service next year as part of an industrywide push to reduce greenhouse gas emissions.
The roundish, 33-meter-long vessel holds 100 people. It will go into commercial service in April 2024 in Fukuoka prefecture.
The ship will be powered by a combination of biofuel and hydrogen cells, cutting carbon dioxide emissions by 53% to 100% compared with vessels running on conventional fossil fuels.
...
Motena-Sea, a joint venture set up in March 2022, will operate the hybrid vessel. Investors in Motena-Sea include MOL Techno-Trade, Hongawara Ship Yard, and ship management companies Ikous and Kanmon-Kisen. Biofuel will be locally sourced.
This follows a trend of hydrogen-powered ships being developed in Japan. Industrial gas provider Iwatani will operate a hydrogen fuel cell ferry at the 2025 World Expo in Osaka.
Heavy equipment maker Yanmar Holdings is developing a ship equipped with a hydrogen engine. A prototype more than 100 meters long is slated for completion in 2025.
...
LNG alone will not be enough to significantly shrink the carbon footprint, so companies are investing in hydrogen as a next-generation fuel. Such ships will be better suited to domestic routes, since hydrogen tanks would have to take up much more space for longer trips.
Ammonia and methanol are seen as next-generation fuels for long-haul routes. Japanese shipping company Nippon Yusen, together with IHI Power Systems and other partners, announced in May that they had successfully tested an ammonia-fueled ship engine. Nippon Yusen plans to put the first-ever ammonia-fuel tugboat into operation in June 2024.
Ammonia has its own problems as a fuel. It is toxic, and burning it in an inefficient manner emits such greenhouse gases as nitrogen oxides, which can have a greater warming effect than CO2.
"Green" methanol, which includes biomethanol from animal waste, will be the fuel for a new effort by container shipping giant A.P. Moller-Maersk to decarbonize its fleet. READ MORE
MOL Drybulk, Kambara Kisen Sign Basic Agreement on Time Charter for Newbuilding Methanol Dual Fuel Bulk Carrier - Moving Steadily toward KPI: '90 LNG/Methanol-fueled Vessels' by 2030 - (Mitsui O.S.K. Lines)
Excerpt from Mitsui O.S.K. Lines: O.S.K. Lines, Ltd. (MOL; President & CEO: Takeshi Hashimoto) today announced that on September 11, 2023, its group company MOL Drybulk Ltd. (President and Representative Director: Kazuhiko Kikuchi, Headquarters: Minato-ku, Tokyo) and Kambara Kisen Co., Ltd. (President and Representative Director: Hirotatsu Kambara; Headquarters: Fukuyama-shi, Hiroshima Prefecture) signed a basic agreement on time charter for a newbuilding methanol dual fuel bulk carrier(Note 1) to be ordered and owned by Kambara Kisen. The vessel is slated to be delivered in 2027.
The vessel is designed to use e-methanol produced primarily by synthesizing recovered CO2 and hydrogen produced using renewable energy sources, and bio-methanol derived from biogas. The use of methanol derived from non-fossil raw materials significantly reduces GHG emissions(Note 2), compared to heavy oil-fueled and similar-size conventional vessels.
The vessel's design maximizes cargo space while ensuring sufficient methanol tank capacity set to allow the required navigational distance assuming various routes, at the same time maximizing cargo space. The vessel is expected to serve mainly in the transport of biomass fuels from the east coast of North America to Europe and the U.K. and within the Pacific region, as well as grain from the east coast of South America and the U.S. Gulf Coast to Europe and the Far East.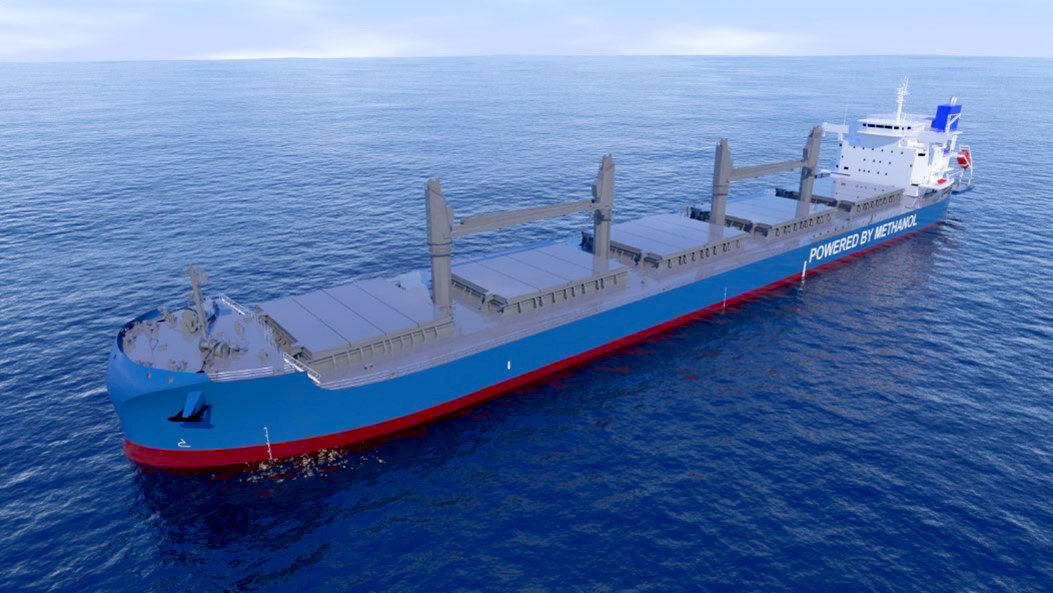 CG rendering of the newbuilding methanol dual fuel bulk carrier
MOL has established the "MOL Group Environmental Vision 2.2" and set the goal of achieving net zero greenhouse gas (GHG) emissions by 2050. One of the key strategies to achieve this goal includes the "adoption of clean alternative fuels," and MOL Group aims to have 90 LNG/methanol-fueled vessels in service by 2030. In addition, with growing worldwide interest in methanol fuel as a promising clean energy source, it will promote its initiatives to secure the necessary capacity, not only in terms of fleet planning of methanol dual fuel vessels, but also in procurement of low and decarbonized methanol fuel.
MOL Group and Kambara Kisen that introduce the methanol dual fuel bulk carriers at an early stage, will play a role in initiatives by society as a whole to achieve decarbonization through safe ownership, management, and operation of this innovative vessels.
(Note 1) The vessel will feature a dual-fuel combustion main engine that can run on methanol, or heavy oil as a backup fuel.
(Note 2) On a life-cycle basis from fuel production to consumption. READ MORE
Share
More than 40,000 articles in our online library!
Use the categories and tags listed below to access the more than 40,000 articles indexed on this website.
© 2008-2023 Copyright Advanced BioFuels USA. All Rights reserved.