Top EU Regulator Urges 'Ban' on Crypto Mining that He Claims Is Sucking up Renewable Energy
by Barbara Kollmeyer (Market Watch) The European Union urgently needs to ban a form of cryptocurrency mining that is relying heavily on renewable energy, and poses a threat to climate-change goals, a top regional regulator said Wednesday.
"The solution is to ban 'proof of work'," Erik Thedéen, vice-chair of the European Securities and Markets Authority, told the Financial Times in an interview.
He was referring one the main methods of verifying cryptocurrency transactions, which has been criticized as consuming too much energy as it uses a competitive method of confirming transactions, involving many miners who try to solve cryptographic puzzles. The alternate, newer "proof of stake" model uses fewer, randomly selected miners.
…
China banned cryptocurrency activity including mining last year, citing reasons from money laundering to environmental and energy problems. Swedish authorities, meanwhile, called for a halt to "energy-intensive mining of crypto assets" last November, saying it threatened the country's ability to meet Paris Agreement goals.
"Bitcoin is now a national issue for Sweden because of the amount of renewable energy devoted to mining," Thedéen said.
…
Bitcoin BTCUSD, 3.00% electricity consumption has surged during the pandemic years, according to this chart from the Cambridge bitcoin Electricity Consumption Index.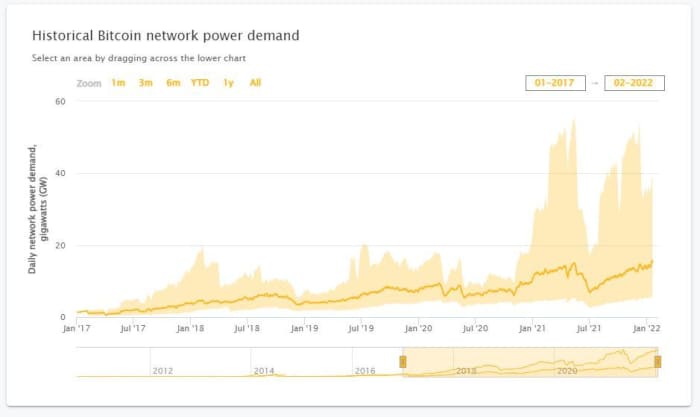 Its electricity consumption alone can dwarf that of single countries, by some measurements, as shown by another Cambridge chart.
…
The European Parliament has proposed a requirement for companies to disclose crypto-related energy consumption, while the Crypto Climate Accord is a private-sector attempt to address the issue.
…
Europe has struggled over the past year particularly with power shortages that have required the use of more traditional and dirtier fuels to at times. Surging prices weighed on consumers and companies last year and have threatened to continue into this year, with governments spending billions to provide relief. READ MORE
EU regulator wants to ban energy-intensive bitcoin mining (New York Post)
EU should ban energy-intensive mode of crypto mining, regulator says (California News Times)
Regulator Wants EU Ban On Energy-Sucking Crypto Mining (OilPrice.com)
CRYPTO CLIMATE CRACKDOWN: (Politico's Morning Energy)
Excerpt from Politico's Morning Energy: CRYPTO CLIMATE CRACKDOWN: House Democrats made it clear Thursday that cryptocurrencies will be front and center when discussing clean energy, with lawmakers on the House Energy and Commerce Oversight subcommittee spitballing ways to make sure energy consumers don't get stuck with the bill for the crypto-mining industry's substantial energy consumption. Representatives of crypto-mining firms refuted that their high energy use would destabilize power grids, saying there could be an opportunity for investment in renewable upgrades.
"While the industry has matured since and there are now responsible actors in this space, we should be ready to collaborate and encourage innovation and investment in cleaner renewable energy," Chair Frank Pallone said. Pro's Sam Sutton has the key takeaways from the hearing. READ MORE