The Truth about E15 and Smog
Biofuels Engine Design
,
Environmental Protection Agency
,
Federal Agency
,
Federal Regulation
,
Infrastructure
,
Opinions
,
Performance
,
Policy
,
R & D Focus
,
Sustainability
,
White House
(Renewable Fuels Association) On October 9, President Trump announced that the Environmental Protection Agency (EPA) will soon begin a rulemaking process to allow year-round sales of E15 (gasoline containing 15% ethanol) in conventional gasoline markets, which account for nearly 70% of total U.S. gasoline consumption.[1] Much of the media coverage surrounding President Trump's announcement incorrectly suggested that the current restriction on summertime E15 sales stems from concerns that the fuel blend could result in "more pollution" and emissions that worsen smog.[2]
In reality, E15 is less volatile than today's standard E10 gasoline[3] and research has shown that E15 can reduce emissions that contribute to smog formation. Thus, allowing E15 to be sold in the summertime would improve air quality by lessening emissions of key pollutants that can lead to ground-level ozone formation.
As the ethanol content in gasoline increases, major exhaust pollutants that contribute to ozone formation generally decrease. A 2018 scientific literature review found all studies show slight benefits or no difference when comparing E15 and E10 tailpipe and permeation emissions. The review concluded that "…organics emitted from the tailpipe will have a lower ozone forming potential with E15 in comparison to E10 for both California-specific fuels and other test fuels in the US and China."
Vehicle testing conducted at the University of California—Riverside shows that the ozone-forming potential of E15 is approximately 10-30% lower than E10 (depending on whether the fuel is consumes in a spray-guided direct injection engine [top chart] or a wall-guided direct injection engine [bottom chart]). The results of these tests were published in March 2015 in the journal Energy.[4]
The real reason retailers in conventional gasoline areas have been unable to sell E15 in the summertime is quite simple: bureaucratic red tape and outdated regulations. EPA developed regulations governing the volatility limits for E10 gasoline nearly 30 years ago. At that time, the Agency did not contemplate that blends containing more than 10% ethanol may one day be prevalent in the marketplace; thus, EPA did not include the same volatility limits for E15 or other higher blends that it provided for E10.
The rulemaking directed by President Trump would simply ensure that the volatility regulations that apply to E10 also apply to E15—a sensible and long overdue regulatory reform that would enhance competition and consumer choice in the fuel market.
[1] Year-round sales of E15 are already permitted in many reformulated gasoline (RFG) areas, which account for approximately 30% of the nation's gasoline consumption. However, state regulations preclude the sale of E15 in California and New York RFG areas.
2 Smog and ground-level ozone are formed when sunlight and heat react with certain gases and particles that are released from fuel combustion.
3 Approximately 98% of the gasoline consumed in the United States contains 10% ethanol (E10), according to the Energy Information Administration data.
4 Georgios Karavalakis; Daniel Short; Diep Vu; Robert L. Russell; Akua Asa-Awuku; Heejung Jung; Kent C. Johnson and Thomas D. Durbin, (2015), The impact of ethanol and iso-butanol blends on gaseous and particulate emissions from two passenger cars equipped with spray-guided and wall-guided direct injection SI (spark ignition) engines, Energy, 82, (C), 168-179 READ MORE
Fact Sheet – The Consumer and Fuel Retailer Choice Act: Environmental, Health & Consumer Considerations (Environmental and Energy Study Institute)
Excerpt from Environmental and Energy Study Institute:
Ethanol's Effect on Fuel Volatility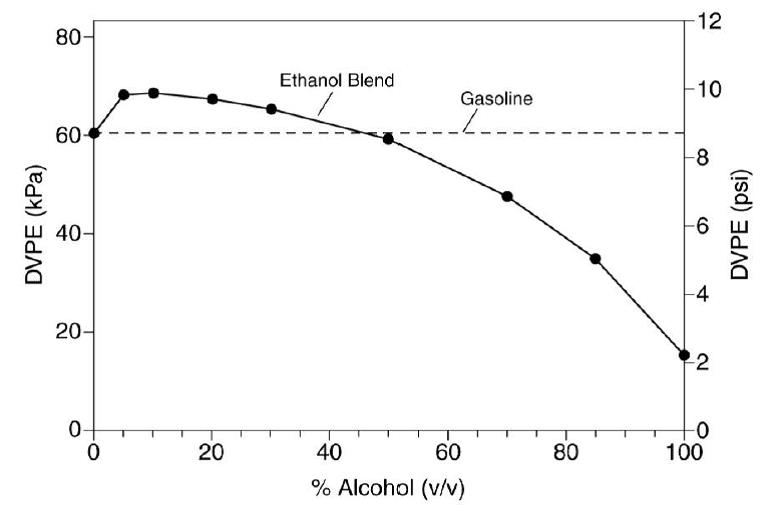 Figure 2: Ethanol's effect on RVP (Source: National Renewable Energy Laboratory)
While neat (pure) ethanol has a lower vapor pressure than gasoline, the interaction of small amounts of ethanol in gasoline causes the ethanol to more readily vaporize. Therefore, mixing small amounts of ethanol and gasoline causes the RVP of gasoline to increase. As the ethanol content in gasoline increases, however, the RVP of the finished gasoline decreases. The addition of 10 percent ethanol (E10) to gasoline raises RVP by approximately 1 pound per square inch (psi). However, at 15 percent ethanol, the National Renewable Energy Laboratory has found that the RVP is nearly the same as that of 10 percent ethanol. And, when increasing ethanol content beyond 15 percent, vapor pressure begins to decrease. A 50 percent blend (E50) has a lower RVP rating than gasoline.
The one-pound waiver does not extend to blends above E10, despite E15 and higher blends having either the same, or lower RVP ratings than E10. At the time the one-pound waiver was granted, blends higher than E10, such as E15 or E30, were not commercially available. High-ethanol blends, such as E85, do not require a RVP waiver, since their RVP rating is below that of gasoline. READ MORE