Production of Clean Cooking Energy in Sierra Leone
by Moses Moseray (Kondayama Biofuel Investment/special to Advanced Biofuels USA) We all know that the world is moving from the bondage of using dirty energy (wood, charcoal, kerosene, etc.) to a clean cooking energy solution in order to save life, reduce, - in house air pollution, reduce environment contamination, contribute to climate change mitigation. One of the absolute means that can achieved this is by embarking on production of bioethanol cooking stoves and production of bioethanol from agricultural waste and starchy biomass that are sources of renewable energy.

The lack of clean cooking energy solutions is a very big problem affecting Sierra Leone, from its origin to date. The country's population depends on the use of dirty energy (firewood, charcoal and kerosene) to cook. Only 0.8% of the country's population use clean cooking energy sources to cook. That is from Liquefied Petroleum Gas (LPG) and electricity. This problem has resulted in deforestation, contamination of the environment, air pollution, air borne diseases and health problems; and affects our climate, social life and the economy of the country.

The ultimate approach to address this problem is to embark on production of alternative energy sources that are renewable, such as production of biofuel (bioethanol or biogas) from agro waste, starchy biomass, agricultural residue and development of different bioethanol cooking stoves or biogas cooking stoves, that can combust effectively, produce clean cooking energy, do not dirty the environment, do not produce toxic gas, or air borne diseases, do not contribute to climate change, health problems and do not damage social life.

As a chemist, I have been working hard to find solutions to this problem, by embarking on production of bioethanol from agro waste and starchy biomass and development of different prototypes of bioethanol cooking stoves to cook clean and live in a healthy environment, below is an example of my work to solve the aforementioned problem affecting Sierra Leone.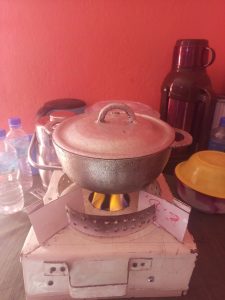 The above picture is one prototype of the bioethanol cooking stoves that is using bioethanol cooking fuel to cook.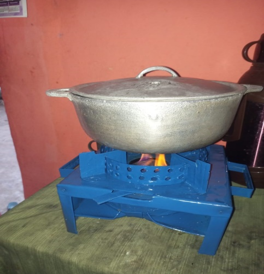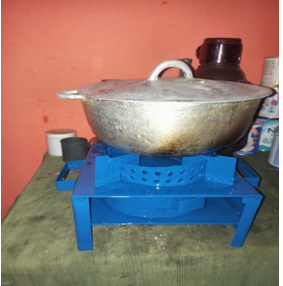 The above is another prototype of the bioethanol cooking stoves that is presently in use.

From my approach, I think it is collectively possible to address this problem through the intervention of the government, NGOs, community, individuals and local farmers, by funding entrepreneurs, companies and individuals to embark on large production of the bioethanol cooking fuel and to develop different prototypes to meet the demand of everyone at reasonable cost.

The fight to bring clean cooking energy solutions to Sierra Leone, Africa and other parts of the world is everyone's fight, NGOs, Government, individual, companies, funders, etc., and must be won collectively.

As a startup entrepreneur and a chemist that is so passionate to bring clean cooking energy to the door step of everyone in Sierra Leone, Africa and the world at large at affordable cost and climate change mitigation, I am seeking support from NGOs, funders, individuals, government of any country, climate change mitigation organizations and companies in order to address this problem by embarking on mass production of the bioethanol cooking fuel and development of different bioethanol cooking stoves. I am also open up to learning and forming collaborations with any individual, company and organization, to work together to achieved our goals.
WATCH VIDEOS:
Demonstration of adding fuel to stove


PREPARED AND PRESENTED BY: MR MOSES MOSERAY: CEO AND FOUNDER OF KONDAYAMA BIOFUEL INVESTMENT, COUNTRY EXPERT OF ETHANOL IMPACT CONSUTUM (EIC), PETROLEUM LABORATORY ANALYST (Chemist) AT SIERRA LEONE STANDARDS BUREAU (SLSB).

Mosesmoseray34181@gmail.com +23277598312 /+232781992752 /+23277827626

7 off Femi Turner drive Goodrich, Freetown Sierra Leone, and kondayama village Moyamba district



Report says 2.3 billion people globally use polluting fuel to cook; 675 million have no electricity (Associated Press)
Share
More than 40,000 articles in our online library!
Use the categories and tags listed below to access the more than 40,000 articles indexed on this website.
© 2008-2023 Copyright Advanced BioFuels USA. All Rights reserved.