Clear Evidence of How Higher Ethanol Blends Lower Gasoline Prices
by Joanne Ivancic (Advanced Biofuels USA) Pictures worth 1000 words show the prices on March 1 at a Sheetz in Virginia. Compare the E10 Regular to E15 Unleaded 88 and E85 FlexFuel. Compare those to the price of E0 -- no ethanol gasoline. The message is clear. Higher ethanol blends save consumers money while helping the environment. The White House, Environmental Protection Agency and Department of Energy and Department of Transportation should take notice. US Department of Agriculture's Higher Blends Infrastructure Incentive Program and some state programs can help if new tanks and pumps are needed.
Federal and state policies should encourage and facilitate use of high blends of renewable fuels, not fight them. Follow the tags for more information.
Buy higher ethanol blends. Seems like the environmentally conscientious and the patriotic thing to do.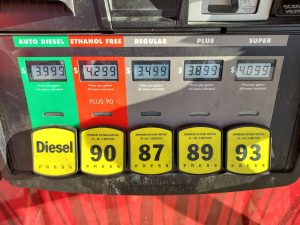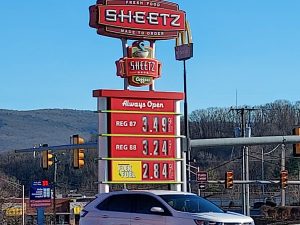 BARRELED: (Politico's Morning Energy)
Our Response to the State of the Union Address: Ethanol Checks All the Boxes (Renewable Fuels Association)
U.S. Farm & Biofuel Leaders Call for Swift Action to Unleash Lower-Cost Biofuels (Renewable Fuels Association)
Ethanol Versus Oil in Global Crisis -- Biofuels Backers, POET Executive Point to Advantages Ethanol Offers in Conflict, Climate (DTN Progressive Farmer)
Biofuel & Ag Leaders Call on White House to Provide Relief at the Pump Through Higher Blends of Ethanol (Renewable Fuels Association)
GAS CAN GET MUCH HIGHER: (Politico's Morning Energy)
US biofuel groups push E15 to counter rising prices (Argus Media)
Ethanol Blog: Ag, Biofuels Groups Ask Biden to Expand E15 Availability in Response to Rising Gas Prices (DTN Progressive Farmer)
House panel to pitch EVs as fix to foreign oil volatility -- An Energy and Commerce subcommittee will feature a witness from Ford Motor Co. (Politico)
Oil Jumps Near $123 as Chance of Russian Ban Spurs Crisis Fears (Bloomberg/Yahoo!)
Elon Musk: US needs to increase oil, gas production 'immediately' (The Hill)
Groups ask for year-round access to biofuels (KIWA)
Biofuel, ag groups tell Biden biofuels can lower fuel prices (Ethanol Producer Magazine)
Renewable Fuels Ask Biden for Summertime Access (AgInfo)
White House Brags That America Is Producing More Oil and Gas Than Ever--Wait, isn't that headed in the wrong direction? (Futurism)
Ethanol Can Help Reduce Toxic Gasoline Aromatics (Environmental and Energy Study Institute)
Ethanol groups push E15 to ease spiking gas prices: Biofuel and farm groups want the administration to lift summer limits on higher-ethanol fuel as the war in Ukraine drives gas prices higher. (Politico)
Iowa Lawmakers Promote Biofuels for Energy Security (Energy.AgWired.com)
Iowa lawmakers to EPA: Biofuels can increase energy security (Ethanol Producer Magazine)
Ethanol Blog: Iowa Delegation Asks Biden Administration to Grow Ethanol, Biodiesel Production in Response to Rising Gas Prices (DTN Progressive Farmer)
Boom time for oil producers as high prices pad profits, but gasoline spike brings warnings -- But 'Rally Around the Rig' could show industry weakness. (Politico)
RFA Thanks Iowa Lawmakers for Promoting Ethanol's Energy Security Benefits (Renewable Fuels Association)
Bipartisan Senators to Biden: Authorize Summertime E15 to Lower Gas Prices (Growth Energy)
Grassley and Ernst Call on Biden to Unleash Iowa Biofuel Immediately as Gas Prices Hit Record High, U.S. Bans Russian Oil (Office of Senator Chuck Grassley (R-IA))
Calls to Address High Food, Fuel Prices: Ripple Effects of Russia-Ukraine War Lead to Calls for Increased Energy and Food Production (DTN Progressive Farmer)
U.S. Energy Secretary to oil and gas execs: Increase production now (Houston Chronicle)
RFA Thanks Senators for Urging White House Action on Year-Round E15 (Renewable Fuels Association)
Feenstra, Iowa Delegation Urge Domestic Ethanol, Biofuel Production to Secure American Energy Independence (KIOW)
RFA Promotes Higher Ethanol Blends at #Classic22 (Energy.AgWired.com)
Can ethanol solve the gas crisis? (KELO Land; includes VIDEO)
EU ethanol contributes to Europe's energy independence (Ethanol Produce Magazine)
SENATOR BALDWIN SUPPORTS BIOFUEL BILL, BLAMES PUTIN FOR FUEL PRICES (Brownfield Ag News)
SENATOR THUNE SAYS BIDEN NEEDS TO CHANGE DIRECTION & LOOK AT BIOFUELS (Brownfield Ag News)
Will producing more oil lower gas prices? It hasn't in the past. (Washington Post)
Pariahs no more? US reaches out to oil states as prices rise (Associated Press)
As gas prices soar, ethanol could be cheaper alternative for drivers (KMOV; includes VIDEO)
Drivers encouraged to consider choosing ethanol at the pump (KIMT)
In Denver, Treasury Secretary Yellen says suspension of federal gas tax is on the table -- With gas prices spiking in Colorado and across the country, Gov. Jared Polis among those calling on federal leaders to back tax holiday (Denver Post)
Ethanol leaders say that increasing blends would immediately bring down prices (RFD TV; includes VIDEO)
Can ethanol help lower gas prices? (Next Star Media; includes VIDEO)
Ethanol industry wants to help bring down fuel prices (KFGO)
Over 1,000 Farmers and Biofuel Supporters Tell President Biden: Use More Ethanol to Lower Gas Prices! (Renewable Fuels Association)
Farmers to Biden: Expand Biofuels Use: More Than 1,000 Farmers, Biofuel Supporters Ask Biden to Ramp up Industry (DTN Progressive Farmer)
1000 Biofuel Supporters Sign Letter to White House (Energy.AgWired.com)
White House weighs lifting ethanol ban to curb gas prices (Politico)
Ag Groups Call on White House to Provide Relief at Pump with Biofuels (AgInfo)
White House considers E15 as a way to reduce fuel prices (Ethanol Producer Magazine)
Letter to Biden: Use more ethanol to lower gas prices (Farm Week Now)
White House Gas-Price Options Boost Biofuels Groups' Hopes For E15 Sales (Inside EPA)
Can E15 Really Replace Russian Oil Imports and Curb High Prices At The Pump? (AgWeb; includes VIDEO)
Biofuel is ready to meet the needs of American consumers (Highland County Press)
Pain at the pump requires blend of solutions; including bio-fuels (MinnPost)
Democrats are floating a whole smoragasbord of options to tackle high gasoline costs, but acknowledge many of them won't work. (Politico's Morning Energy)
Can you believe the price of gas? States move quickly to help drivers -- Red and blue states alike are rushing to respond to soaring gas prices. (Politico)
Ethanol: The Best Cure for Pain at the Pump (Ethanol Producer Magazine)
Opinion: Want to immediately lower prices at the pump? Prioritize biofuels. (Agri-Pulse)
For cheaper gas prices, kill the ethanol mandate (Washington Examiner)
Farmers Brace for Rising Fuel Spikes and Senators Call for Biofuels (KIT)
Ethanol Industry Hopes to Ease Minnesota's Gas Pump Sticker Shock (KRWC)
Now is a good time to increase the ethanol blend in gasoline, farmers say (Advantage News)
Letter: Support Michigan ethanol producers (Ionia Sentinel-Standard)
Biden's menu of options on high gasoline prices is not appetizing (Reuters)
Midwestern lawmakers are trying to replace Russian oil with ethanol: Advocates of increased ethanol sales argue that it could lower fuel prices and help the climate. Both counts are hotly contested. (Grist)
FEENSTRA SAYS EPA HAS "NO INTEREST" IN MAKING E15 AVAILABLE THIS SUMMER (Brownfield Ag News)
Ethanol would offset foreign oil dependency, Farmers Union president says (Jamestown Sun)
Ethanol Report 3-29-22 -- How Ethanol Can Lower Gas Prices (Energy.AgWired.com; includes AUDIO)
Cheap ethanol drives French demand for gasoline engine conversion kits (Reuters)
Corn could be the answer to high gas prices: Midwestern lawmakers push Biden to allow E15 gasoline production year-round (Fox Business; includes VIDEO)
U.S. considers adding more ethanol to gasoline to lower pump price -sources (Reuters)
Biden Planning to Tap Oil Reserve to Control Gas Prices (Associated Press/US News and World Report)
Opinion: Michigan should invest in homegrown biofuels to ease pain at the pump (Detroit News)
Opinion: U.S. biofuels beat out Venezuelan oil on delivering relief at the pump (Farmington Daily Times)
Growth Energy ad campaign: E15 can deliver relief at the pump (Ethanol Producer Magazine; includes VIDEO)
https://youtu.be/bnZVYTbgTNQ
Biden, again, proposes eliminating tax breaks for oil, gas production — potentially driving up costs (Houston Chronicle)
RFA: White House Overlooks Ethanol, Favoring Oil and Undermining Climate Objectives (Renewable Fuels Association)
American Voters Support Expanded E15 Use to Address High Pump Prices (Renewable Fuels Association)
RFA Thanks House Members for Supporting E15 Ethanol Blend as Alternative to Russian Imports (Renewable Fuels Association)
Biofuels Groups Baffled At Biden's Failure To Boost E15 Fuel As Price Fix (Inside EPA)
White House action on high fuel prices ignores E15 (Ethanol Producer Magazine)
Biden barrels forward (Politico's Morning Energy)
Biofuels Caucus Members Press Biden on E15 (Energy.AgWired.com; includes AUDIO)
House members urge Biden to prioritize the use of biofuels (Ethanol Producer Magazine)
29 BIPARTISAN MEMBERS OF CONGRESS SEND BIDEN LETTER CALLING FOR GREATER ACCESS TO BIOFUELS (Brownfield Ag News)
As Gas Prices Soar, Biden's Climate Ambitions Sputter: Rising costs at the pump, war in Ukraine, an emboldened fossil fuel industry and stalled legislation have imperiled President Biden's climate agenda. (New York Times)
Biden's petroleum release won't change dictators or Big Oil (Houston Chronicle)
Will Biden's SPR release lower gas prices? (The Hill)
Committees prepare for gasoline price battles (E&E News)
Energy groups target Biden administration over unwillingness to expand domestic oil production -- The national average per gallon of gas is $4.20, according to AAA (Fox Business News)
World events spark need for ethanol (News Enterprise)
Biden called for US energy independence — advanced biofuels can propel us (The Hill/Advanced Biofuels Association)
Kim Reynolds guest column: President Biden should unleash homegrown American biofuels: The president has seemed to react to world events instead of driving them; this is his opportunity to break that pattern. (Des Moines Register; includes VIDEO)
Exxon signals record quarterly profit from oil and gas prices (Reuters)
RFA: American voters support expanded use of E15 (Renewable Fuels Association/Ethanol Producer Magazine)
Reps Question Lack of Biofuels in Budget (Energy.AgWired.com; includes AUDIO)
Republicans pounce over Biden rural energy policy: House Agriculture Committee lawmakers pressed the administration to expand ethanol use in response to high gasoline prices. (E&E Daily)
Ethanol may bring down gas prices: Sen. Chuck Grassley -- To reduce oil prices, Biden's energy policies need to be 'certain,' Iowa senator warns (Fox Business; includes VIDEO)
Biden to announce plan to ease gas prices as inflationary pressures persist -- The EPA plans to issue a national, emergency waiver to allow use of blended biofuels over the summer hours after report is expected to show inflation keeps surging (Washington Post)
Biden's urgent moves on gas prices collide with lofty climate goals -- The president took office determined to shift the nation's course on climate change. That legacy could be threatened by the political urgency to cut gas prices. (Washington Post)
Excerpt from Politico's Morning Energy: BARRELED: The U.S. announced it would dip into its Strategic Petroleum Reserve for 30 million barrels, joining 30 other countries tapping their reserves to smooth supply disruptions that Russia's invasion of Ukraine is exacerbating, Ben Lefebvre reports for Pros. All told, the International Energy Agency member states joining the effort will put 60 million barrels into the market. White House Press Secretary Jen Psaki called the decision "another example of partners around the world condemning Russia's unprovoked and unjustified invasion of Ukraine." In his State of the Union address, Biden said it would "help blunt gas prices here at home."
The SPR move comes as U.S. crude oil prices hit their highest level since June 2014, spiking 10 percent Tuesday to hit $106 per barrel. Republicans have hammered Democrats and Biden for inflation, of which escalating gasoline prices are a visible reminder for many Americans – though analysts contend more expensive fuel is largely a global, pandemic-related issue and predates the Ukrainian conflict. Psaki said the SPR decision reflects that "Biden was clear from the beginning that all tools are on the table to protect American businesses and consumers, including from rising prices at the pump."
Republicans also have increasingly pressured the Biden administration to block imports of Russian oil to strain Russian President Vladimir Putin — yet Democrats are divided on the idea, POLITICO's Josh Siegel reports.
Sen. Ed Markey (D-Mass.) and Sen. Joe Manchin (D-W.Va.), perhaps the party's opposing poles on climate issues, both called for halting Russian crude imports — with Markey going so far as to introduce legislation. "There is no separating Russian oil from the corruption and human rights abuses of the Putin regime. We cannot criticize Europe for its reliance on Russian energy, as we pour dirty oil money into Russia," the Massachusetts Democrat said in a statement.
Yet skeptics of the option argue Russia could simply sell the oil elsewhere. They also note that Moscow represents a relatively small amount of total U.S. energy imports. And they worry that cutting off any source of supply could further worsen the energy inflation that has become a major political vulnerability for Democrats.
"It's not just about changing the source of the oil, because really in these markets there's so much fungibility, so that doesn't really get at the problem," Sen. Brian Schatz (D-Hawaii) told Josh.
Schatz did make a distinction between short term tactics and longer term strategies, saying that cutting imports of Russian oil would be "great" if it's "achievable" but that the "strategic imperative is for us to not need the stuff [fossil fuels] anyway."
And Rep. Sean Casten (D-Ill.) says stopping the purchase of Russian oil misses the point of Democrats' larger agenda to reduce dependence on fossil fuels altogether by investing more in clean energy.
"I would love to see us get off Russian oil, but I also think there is a tendency to get into oversimplification here," Casten told Josh. "The sound bite is great. The nuance is more sophisticated. The reality is the way to stop buying Russian oil is to massively increase the efficiency of the U.S. economy. Then we can not only stop buying Russian oil, but stop buying oil from a whole lot of other people."
...
EXXON EXITS RUSSIA: Exxon Mobil, one of the largest foreign investors in Russia, is winding down operations at a large liquefied natural gas facility in eastern Russia and will cease new investments in the country as a result of Putin's war. Exxon will start a "carefully managed" exit from the the Sakhalin-1 LNG project that also includes Russian oil company Rosneft as a major stakeholder, the company said in a press release. Sakhalin-1 has an export capacity of 6.2 million tons a year, and was one of the largest foreign direct investments in the country. Read Ben's story for more. READ MORE
Excerpt from Renewable Fuels Association: To provide relief at the pump in response to the ongoing Russia-Ukraine crisis while simultaneously reducing carbon emissions from the transportation sector, six farm and biofuel organizations wrote to President Biden urging his administration to use existing authority to allow for the year-round sale of gasoline blended with up to 15 percent ethanol (E15).
In a letter to the White House, the Renewable Fuels Association, American Farm Bureau Federation, Growth Energy, National Corn Growers Association, National Farmers Union and National Sorghum Producers explained that an immediate move to restore year-round sales of E15 can ease the impact of oil market disruptions and surging gas prices caused by Russia's invasion of Ukraine.
"As American families continue to confront skyrocketing gas prices, we write today to urge the Administration to take a simple action that can provide immediate relief at the pump while simultaneously reducing carbon emissions from the transportation sector," wrote the organizations. "Specifically, we request that the Administration use its authority to authorize the year-round sale of gasoline blended with up to 15 percent ethanol (E15) in response to surging oil prices and expected fuel supply disruptions caused by Russia's invasion of Ukraine.
"As Russia's harmful actions in Ukraine continue and further sanctions are potentially imposed against Russia, oil prices will likely continue to rise, creating still higher consumer costs and threatening U.S. energy and economic security. Expanding the volume of American-made ethanol in the U.S. fuel supply can help alleviate these issues, as ethanol is currently priced 70-80 cents per gallon lower than gasoline. And, by displacing imported petroleum, increased ethanol use will enhance U.S. energy security and independence, while reducing emissions and supporting America's farmers and rural economies." The full letter is available here. READ MORE
Excerpt from Politico: White House press secretary Jen Psaki said lifting the summertime restriction on the sale of fuel that's 15 percent ethanol, or E15, is within "the menu of options" the administration is considering to bring down skyrocketing gas prices. READ MORE
Excerpt from AgWeb: Jan Tenbensel, chairman of the Nebraska Ethanol Board, says when you do the math, it clearly shows E15 is a viable option to fill the void.
"Over the last five years, we've averaged about 400,000 to 440,000 barrels a day (18 million U.S. gallons) of imports from Russia," says Tenbensel. "Now, about half of those barrels, or about 200,000 to 220,000 barrels, are actually gasoline or become gasoline products for us. The rest are various other petroleum products, kerosene, jet fuel, those sorts of things. So, of the 220,000 barrels a day of Russian imports that become gasoline, we could replace that tomorrow with E15."
Tenbensel says on a national level, the Nebraska Ethanol Board is looking at about a one-third of market penetration with E15 could do the job to eliminate all Russian gasoline imports.
"It's a shocking number, but it's there," he adds. "And the amazing part of this is the unused capacity of the American ethanol industry is about 220,000 barrels a day."
Timing Could Be Immediate
What's the timing to replace it all? Tenbensel says by bumping blends to E15 from E10, it could essentially happen tomorrow. The Nebraska Ethanol Board's white paper shows if the entire Midwestern defense pad (PADD 2) alone converted E10 to E15, this could displace 98% of Russian import generated gasoline. And based on U.S. Energy Information (EIA) data, Nebraska Ethanol Board found the conversion would utilize less than half the unused ethanol capacity across the U.S.
...
"A bipartisan group of lawmakers have called on the White House to lift the ban of summer sales of gasoline with higher blends of ethanol. It's cheaper than traditional blends of gasoline. Is that something — you mentioned a menu of options, but is that something specifically that the White House is considering?" asked a reporter during the press briefing this week.
"(It's) in the menu of options," answered Jen Psaki, White House press secretary.

Ethanol Reserves Highest Since April 2020
If the White House decides to tap into E15 to help fill the void, it appears there's plenty of ethanol to go around.
...
"This white paper was so eye-opening for me, because it allowed us to realize we have the capacity today to eliminate Russian imports as a national security issue. And we as farmers and people involved in agriculture, we need to ask our local retailers, we need to ask our co-ops, 'Hey, we need to switch to E15 today, we need to do it now. It's for our country. It's for our economy. It's for the entirety of rural America," says Tenbensel. READ MORE
Excerpt from Renewable Fuels Association: President Biden released a plan to address higher fuel prices resulting from Russia's invasion of Ukraine. The President called on petroleum companies to ramp up oil production, encouraged Congress to make oil companies pay penalty fees for idle oil wells on leased public lands, and announced an unprecedented release of up to 180 million barrels of oil from the Strategic Petroleum Reserve. Biden also is authorizing the use of the Defense Production Act to support the extraction and processing of minerals and materials used for large-capacity batteries, such as lithium, nickel, cobalt, graphite, and manganese.
The following is a statement from Renewable Fuels Association President and CEO Geoff Cooper.
"Doubling down on petroleum dependence is not an economically or environmentally sustainable solution for lowering gas prices, and it completely undermines this administration's ambitious climate objectives. It is baffling to us that President Biden continues to overlook ethanol, which is the most readily available, lowest-cost, and lowest-carbon option for extending our nation's fuel supply. Rather than draining our strategic petroleum reserve and scolding U.S. oil producers for failing to increase production, we believe the administration should be empowering farmers and ethanol producers. They are eager to do their part to deliver economic relief and energy security for their fellow Americans. Today, ethanol is selling for $1 per gallon less than gasoline and we are sitting on record ethanol inventories and ample spare capacity; yet access to the marketplace continues to be limited by decades-old regulatory barriers that never made sense. Simple administrative actions could unleash the power of renewable fuels to immediately reduce pump prices without sacrificing the health of our environment. Yet, the strategic national asset that is our renewable fuels industry continues to be neglected by this administration. We urge President Biden to take action now to facilitate expanded production and use of low-carbon biofuels like ethanol." READ MORE
Excerpt from Ethanol Producer Magazine: The RFA also joined with the Advanced Biofuels Business Council, Growth Energy, National Corn Growers Association and National Farmers Union to issue a joint statement calling on Biden to take action to allow year-round sales of E15. "The White House is actively considering an E15 fix to deliver relief at the pump, but today's announcement made no mention of homegrown fuels," the groups said. "It was just another stop-gap release of oil reserves and a promise of more mineral extraction down the road. The clock is ticking, and failure to protect E15 from summer fuel restrictions threatens to take away a popular, money-saving option at the pump in 30 states. If action isn't taken by the administration, those drivers will see their gas prices spike overnight. There's a record surplus of lower-cost, domestic biofuels ready to more than fill the void left by Russian oil. E15 has already been helping some drivers save more than 30 cents a gallon. Given the steady discount on ethanol against unblended gasoline, biofuels are a source of energy security and savings the White House cannot afford to ignore. Just today, another bipartisan band of lawmakers called on President Biden to waive outdated and senseless restrictions on the sale of homegrown ethanol, reflecting a growing chorus of leaders concerned about the fast-approaching regulatory cliff on gas prices. The time to act is now." READ MORE
Excerpt from Politico's Morning Energy: Sen. Tammy Duckworth (D-Ill.) promoted her legislation to allow for year-round sales of gasoline blends with 15 percent ethanol – an idea the Biden administration is considering. "We can and should do more," she said in a statement.
...
KEEPING UP THE E15 TALK: Nearly 30 bipartisan lawmakers in the House reiterated calls for the president to reinstate the year-round availability of E15 fuel, as well as reverse course on the proposed retroactive reduction to 2020 and 2021 Renewable Volume Obligations, in response to Russia's invasion of Ukraine. "Upholding the RFS and permanently reinstating the year-round availability of E-15 would lower fuel prices for hardworking Americans," they wrote.
The ethanol industry also kept up the pressure Thursday, expressing disappointment the White House did not include any actions on E15 in its suite of announcements. "It is baffling to us that President Biden continues to overlook ethanol, which is the most readily available, lowest-cost, and lowest-carbon option for extending our nation's fuel supply," said Renewable Fuels President and CEO Geoff Cooper. READ MORE
Share
More than 40,000 articles in our online library!
Use the categories and tags listed below to access the more than 40,000 articles indexed on this website.
© 2008-2023 Copyright Advanced BioFuels USA. All Rights reserved.