French Fry Oil-Powered Fast Charger Makes It Possible For EVs to Cross Australia's Vast Emptiness
by Erin Marquis (Jalopnik) … A retired engineer partnered with Polestar to solve the problem of getting EVs through one of the most wild, empty places in Australia using old "chip" frying oil.
Jon Edwards (no, not that one) is a former engineer turned inventor. He partnered with Polestar to build his BiØfil fast-charging system outside of the roadhouse community in Caiguna, which serves as a midway point for drivers crossing the Plain.
…
The BiØfil fast-charging system used old frying oil to charge a Polestar 2 to 80 percent in over an hour, according to the Drive Australia. The car went on to complete the 434 mile-journey between Caiguna and Southern Cross, Western Australia.
…
From the Drive:
…
While the BiØfil charger uses a combustion-engined generator to extract energy from the waste oil – powering the zero-emissions electric car with fossil fuels – Polestar says the charger is "an entirely net-zero exercise", thanks to the way the vegetable oil is produced in the first place.
"The vegetable oil for the fryers comes from seed crops, such as canola and sunflower, which absorb CO2 and sunlight, and the CO2 produced to power the charge system is the equivalent to CO2 absorbed," Polestar claims. READ MORE
Polestar 2 electric car crosses the Nullabor with innovative fast charger: Volvo's electric car spin-off Polestar has used its new Polestar 2 sedan to cross Australia's expansive Nullabor Plain, thanks to a new fast charging station powered by leftover cooking oil. (The Drive Australia)
Leftover roadhouse deep fryer oil will power the Nullarbor's first EV fast charger at Caiguna (ABC News)
Excerpt from ABC News: Off-grid and unable to afford the up-front cost of solar and batteries, the roadhouse will generate low-emissions electricity through burning something it has been throwing out for years: leftover chip oil.
…
"We've started collecting the fat from the deep fryers," Don Waugh, the roadhouse's owner, said.
"It's a fantastic idea — it's just whether we can get that much oil."
…
Then, one day in November, 66 EV owners drove out to Dowerin, where they hosted a barbecue, gave free rides to the public, and took the skeptical roadhouse owner (Don Waugh) for his first ever spin in an EV.
"He scratched his head, went for a drive and looked at the charger, and that's when I said to him, 'How much of this oil have you got?'" Mr Edwards said.
"He said, '160 to 200 litres. We throw it in the tip.'
"I said, 'You better start saving it up because we can charge cars with that.'"
…
In early January, Mr Edwards and several volunteers will haul at least one biofuel EV fast charger more than 1,000km from Perth to Caiguna, with the aim of having it functional by January 16.
"I've already sent a 1,000-litre tank for them to load up with cooking oil," Mr Edwards said.
"We have to filter out the crispy bits and settle out the rest for two weeks."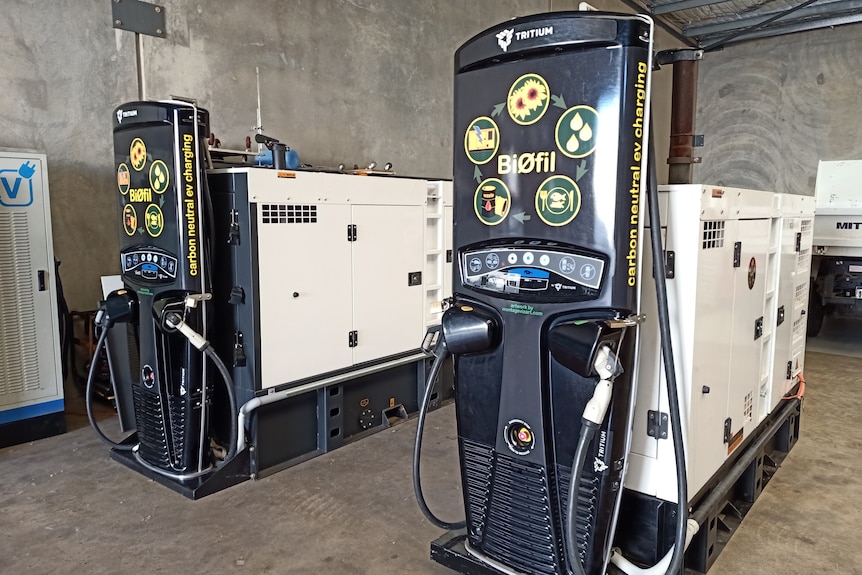 For the first few years, at least, there should be more than enough biofuel to power the generator.
"There's about eight to 10 EVs a year going across the Nullarbor, or a bit less than one a month," Mr Edwards said. READ MORE