Federal University of Goiás Holds an Event on the Impacts of Brazilian Biofuels Policy
by Bruno Roque and Jakeline de Oliveira * (University of Goiás/Advanced Biofuels USA) The New Brazilian Policy for biofuels called RenovaBio was one of the topics addressed at the 15th Congress of Research, Education and Extension (Conpeex) held on October 16, 2018, at Federal University of Goiás (UFG in Portuguese). The event reunited renowned speakers from various areas of knowledge among authorities and specialists to present the formulation of this program to the Goiás state community and stakeholders. The goal of the event was to understand the importance of this and its social and economic impacts.
RenovaBio can be considered a State policy, with the objective of Brazil's decarbonization with a long-term policy of biofuels. RenovaBio aims at a joint strategy to recognize the role of all types of biofuels in the Brazilian energy matrix, in order to provide greenhouse gas emission reduction.
During the opening ceremony, the organizer of this event and coordinator of the Global Studies Center (NEG in Portuguese) of the UFG and board member of Advanced Biofuels USA, Prof. Dr. Laís Thomaz emphasized the need for greater visibility of the theme which includes new technologies that promote economic, social and ecological sustainability. In addition, she emphasized the need for a dialogue among the academic community, the private and public sector and society.
Representing the Ministry of Mines and Energy (MME), Miguel Ivan de Oliveira spoke about the importance of biofuels and their positive externalities - RenovaBio will generate more jobs, benefiting the economy and promoting a better quality of life and health for society.
The superintendent of the Brazilian Union on Biodiesel and Biokerosene (UBRABIO), Donizete Tokarski stated that Brazil needs clean fuels for its vehicles, arguing that biodiesel should be in all public transportation. Tokarski also spoke about the positive externalities.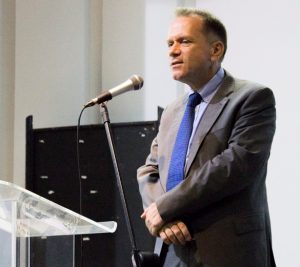 Biodiesel would provide economic innovations and technological development, he said. For this paradigm shift to work, it is important to have transparency, sustainability, credibility and greater interaction among government, society and academia. In addition, for him, RenovaBio will contribute with job creation, competitiveness and verticalization of production. He questioned the lack of investments and decisions that favor the use of the biofuels in all forms of transport.
From the academic perspective, Joachim Werner Zang, coordinator of the Research and Extension Group on Sustainable Technologies and Processes and also professor of the Federal Institute of Education, Science and Technology of Goiás (IFG in Portuguese), presented his research on biogas.
The researcher discussed the existing technologies in other countries that can be inserted in the Brazilian biogas plants, such as biogas reactors and how they can be used in small- or large-scale production. According to Zang, biogas production technology generates energy from moist organic waste and, compared to other renewable energy sources, such as wind and photovoltaic, biogas production has the potential for energy storage.
The researcher presented cases of successful biogas production in Brazil. The plants in the states of São Paulo, Santa Catarina, Rio de Janeiro and Paraná indicate that there are large production opportunities to increase the production of this biofuel. Zang is currently working on the "Brazilian reactor", a project in partnership with UFG and IFG since 2017.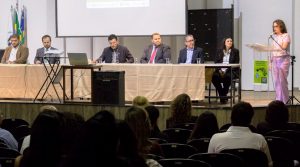 Pietro Mendes, from the Brazilian National Petroleum, Gas and Biofuels Agency (ANP in Portuguese), stated that for an energy transition to a low carbon economy, it is important to have good public policies. In his words, "Having a public policy gives a direction of investments and gives the predictability of what model the country wants." Mendes also emphasized that to have a good energy transition requires energy policies and regulation and also, "It is necessary to interact with technologies, institutions and society. The articulation of all sectors is very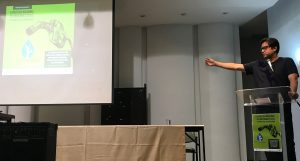 important - we live in an era of cooperation."
This event was a good opportunity to have productive dialogue between academia, private sector and the public officers to discuss the challenges of this public policy and its enormous relevance for the future of the production and consumption of clean and renewable energies in Brazil.
*Bruno Roque and Jakeline de Oliveira are undergraduate students at the University of Goiás.

A sustainable future involves biofuels (Google translation) / Um futuro sustentável passa pelos biocombustíveis (Federal University of Goiás)
Tags
Share
More than 40,000 articles in our online library!
Use the categories and tags listed below to access the more than 40,000 articles indexed on this website.
© 2008-2023 Copyright Advanced BioFuels USA. All Rights reserved.