Farm Bill Energy Title Contains Climate Tweaks, Slimmer Funding
Agriculture
,
BioChemicals/Renewable Chemicals
,
BioRefineries/Renewable Fuel Production
,
Carbon Capture/Storage/Use
,
Federal Agency/Executive Branch
,
Federal Legislation
,
Funding/Financing/Investing
,
Government Resources
,
Opinions
,
Policy
,
R & D Focus
,
Resources
by Jessie Stolark (Environmental and Energy Study Institute) … While the bill is largely viewed as a status-quo farm bill, the bill importantly reauthorizes the Energy Title (IX) and contains some new programs and tweaks aimed at helping producers become more resilient to climate change.
…
While overall the Energy Title receives less funding than the 2014 bill, the bill maintains significant mandatory funding for the Renewable Energy for America Program (REAP), an incredibly popular program that helps install renewable energy and energy efficiency technologies on farms, ranches and in rural businesses, and which is always oversubscribed.
Unfortunately, both the Biomass Crop Assistance Program (BCAP) and the Biomass Research and Development Program (BRDI) received no mandatory funding. Both programs are crucial to diversifying and growing the bio-based economy, and should be expanded. There is also a new program, the Carbon Utilization and Biogas Education Program (Sec. 9011). This program will provide grants for education on the benefits of carbon sequestration.
Other notable program changes include:
Expansion of the definition of "biobased product" to include renewable chemicals;
Expansion of the definition of "biorefinery" to include facilities that convert biomass into chemicals and intermediate ingredients;
Energy storage is now considered part of a "renewable energy system" under REAP;
Carbon utilization research is now eligible for Biomass Research and Development funding.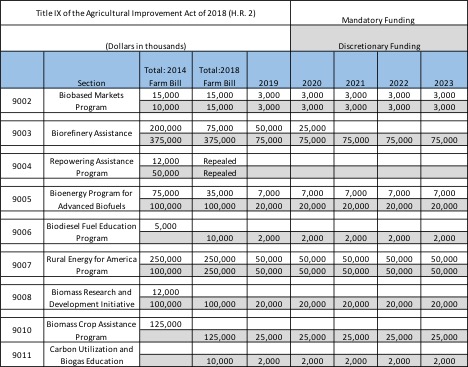 Trump signs 2018 Farm Bill (Ethanol Producer Magazine)
Trump signs farm bill that backs climate change programs, avoids food stamp cuts (Washington Examiner)
Happy Holidays for many thanks to 2018 Farm Bill (Biofuels Digest)