Biofuels Advocates Testify at EPA Hearing
(Ag News Wire) The Environmental Protection Agency held a hearing Friday on proposed regulatory changes related to retail sales of 15% ethanol blended fuel (E15) and the renewable identification number (RIN) compliance system Renewable Fuel Standard (RFS) program.
Biofuels advocates, organization representatives and company officials testified at the hearing about the proposal and other related topics. …
Renewable Fuels Association (RFA) president and CEO Geoff Cooper.
American Coalition for Ethanol (ACE) Senior Vice President and Market Development Director Ron Lamberty
National Corn Growers Association First Vice President and Iowa farmer Kevin Ross
Growth Energy CEO Emily Skor READ MORE includes AUDIO
RFA Strongly Supports, Urges Quick Action on EPA Proposal to Allow Year-Round E15 (Renewable Fuels Association)
RFA Statement on EPA Issuing Yet Another Small Refinery Exemption from RFS Compliance (Renewable Fuels Association)
Gov. Reynolds testifies in favor of E15 in Michigan (Office of the Governor of Iowa)
TESTIMONY OF THE RENEWABLE FUELS ASSOCIATION BEFORE THE U.S. ENVIRONMENTAL PROTECTION AGENCY (Renewable Fuels Association)
ACE LEADERSHIP TESTIFIES ON EPA'S PROPOSED RVP/RIN RULE (American Coalition for Ethanol)
NCGA TESTIFIES IN SUPPORT OF YEAR-ROUND E15 (National Corn Growers Association)
Growth Energy Backs E15 Year-Round Proposal at EPA Hearing (Growth Energy)
Ag, Ethanol Fight for E15: Both Sides in E15, Biofuel Credits Reform Debate Testify at EPA Hearing (DTN The Progressive Farmer)
EPA Fast-Tracked Ethanol Plan After Trump Pledge (RigZone/Bloomberg)
Biofuel groups express support for E15, argue against RIN reform (Biomass Magazine)
EPA Rushed Ethanol Plan Sought by Farmers After Trump Pledge (Investing.com)
Biodiesel Interests Testify at EPA Hearing (Energy.AgWired.com)
Trump Looks to 'Thread the Needle' With Farms, Oil on Biofuels (Bloomberg)
Trump's Dealmaking Prowess Tested in Fight Between Oil, Farmers (Bloomberg)
FARM GROUPS PUSH FOR YEAR-ROUND E15 (Brownfield Ag News)
Ethanol Producers United in Comments to EPA (Energy.AgWired.com)
Ag, Ethanol Fight for E15: Both Sides in E15, Biofuel Credits Reform Debate Testify at EPA Hearing (DTN The Progressive Farmer)
Top Biofuel Leaders Testify at EPA E15 Hearing (Convenience Store Decisions)
Biofuel groups testify at EPA hearing on year-round E15 (Feedstuffs)
Ethanol industry is going in reverse (Argus Leader)
OPINION: EPA RULE CHANGES ARE ENOUGH TO UPSET BOTH BIG CORN AND BIG OIL (The Daily Caller)
Excerpt from Bloomberg: If Donald Trump's administration was looking for signs of easing tensions between two of his vaunted constituencies — blue-collar oil and rural farmers — a hearing in Michigan proves otherwise.
The two sides exchanged heated comments Friday at a public hearing over proposed changes by the Environmental Protection Agency on ethanol policy. Oil refiners and agricultural proponents, including Iowa Governor Kim Reynolds, a Republican, made pitches on how their groups stand to benefit — or be harmed — by the administration's vow to allow higher sales of ethanol and planned reform for trading of biofuel credits.
…
Meanwhile, a segment of the oil-refining industry has long advocated for changes to associated credits that show compliance with the biofuel blending mandate.
…
Last fall in Iowa, the largest corn-growing and ethanol producing state, Trump promised to unleash higher sales of the biofuel. The move followed a series of White House meetings with oil-industry advocates and agricultural proponents that fell short of reaching a deal. The administration has targeted having the shift in place by the U.S. summer driving season.
"President Trump made a commitment to Iowa last October, and Iowans expect it to be kept," Reynolds said.
…
The "EPA's proposed rule raises significant concerns about the legality of year-round sales of E15," Frank Maisano, who represents the Fueling Jobs Coalition, a group of union workers and independent oil refiners, said at the hearing. He said that the proposal to reform trading of Renewable Identification Numbers, or RINs, "is incomplete, but is nevertheless a step in the right direction in correcting these serious market flaws."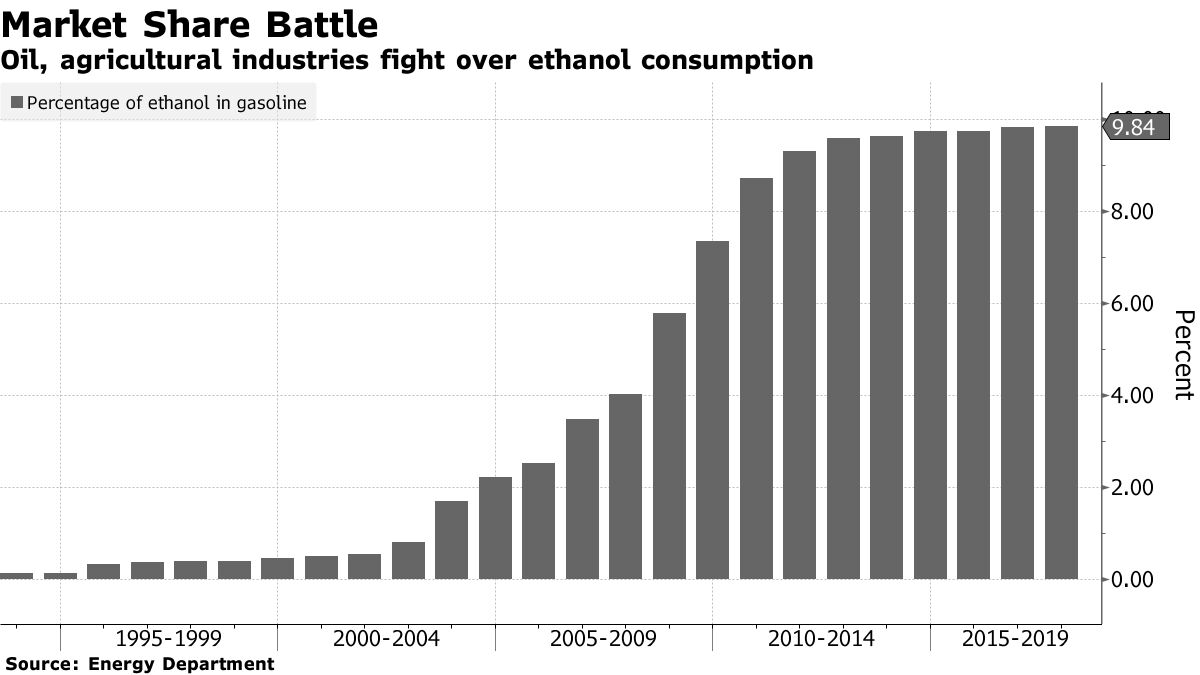 …
The EPA's proposal on E15 "is an anti-consumer policy that goes beyond EPA's statutory authority and should be withdrawn," said Frank Macchiarola, vice president downstream and industry operations at the American Petroleum Institute in Washington, said. The reforms to the RIN market are a "solution in search of a problem," he said.
…
Meanwhile, the agriculture side also used the hearing as an opportunity to express concern over the administration's distribution of so-called small refinery exemptions, the waivers that the EPA grants if a company shows that its obligations under the biofuel mandate threaten economic harm. As of Thursday, the EPA has exempted 35 refineries from 2017 biofuel blending quotas, and the agency is still considering 39 for 2018. Oil refiners argue that the administration is following the law in issuing them.
…
The waivers are "moving the Renewable Fuel Standard backwards instead of forwards, which is not at all what the president campaigned about when he was seeking office," Emily Skor, chief executive officer of trade group Growth Energy, said in an interview following testimony. READ MORE
Excerpts from Energy.AgWired.com: Substantially similar, otherwise known as "sub-sim", is a term used in the EPA proposal relating to the definition of E15 in relation to the Tier 3 certification fuel, which is E10. Ethanol producers support that definition but oppose EPA's proposal to impose certain restrictions on the use of E15 under the "sub sim" approach. Producers also expressed concerns about the regulation of E15 made at blender pumps, which as proposed would not qualify for the 1-psi RVP waiver.
All four producers also urged EPA to separate the E15 and RIN reform provisions of the proposal and consider them individually. In addition, they stressed the damage caused by the granting of Small Refinery Exemptions (SRE) by EPA and urged the agency to reevaluate how those requests are being handled.
Listen to their comments below:
Ethanol producers –


EPA MICHIGAN HEARING – RANDY DOYAL, AL-CORN CLEAN FUEL, MN

EPA MICHIGAN HEARING – MICK HENDERSON, COMMONWEALTH AGRI-ENERGY, KY

EPA MICHIGAN HEARING – NICK BOWDISH, ELITE OCTANE, IA

EPA MICHIGAN HEARING – PAM MILLER, SIOUXLAND ETHANOL, NE
Excerpts from DTN The Progressive Farmer: The majority of more than 50 witnesses at the hearing in Ypsilanti, Michigan, supported E15 and opposed reforms to the Renewable Identification Numbers, or RINs, system. They also took the occasion to call for EPA to stop what they say are demand-bleeding small-refinery exemptions to the Renewable Fuel Standard.
Farmers continue to see net incomes drop, ethanol plants struggle, agriculture and ethanol trade effectively closed to China, and rural communities in Nebraska, Iowa and other Midwest states left picking up the pieces from historic flooding.
"In fact, the economic pressures on rural Iowa have only intensified," Iowa Gov. Kim Reynolds said during her testimony on Friday. "Now, as Iowans are valiantly working to recover from devastating floods impacting rural counties and farmers especially hard, I traveled here today because defending the renewable fuels industry is incredibly important to our state.
"Much has occurred since I was here to testify last July. I noted then that trade uncertainty, combined with attacks on the RFS, has increased angst throughout the countryside, and that remains true today. President Trump made a commitment to Iowa last October, and Iowans expect it to be kept."
Ethanol blending in 2018 dropped for the first time in 20 years, U.S. Department of Energy data shows. The Trump administration has yet to deny a single exemption request. In all, nearly 1 billion bushels of corn demand has been lost through waivers, along with many hundreds of millions of gallons of biofuels not blended.
…
E15 CONCERNS
Iowa Renewable Fuels Association Executive Director Monte Shaw pointed out a number of concerns with the E15 and RINs proposal.
Shaw said the agency inserted a provision that would make it illegal for ethanol plants to create E85 by blending ethanol with natural gasoline because of concerns the final product would not meet EPA fuel specifications. Natural gasoline is the liquid version of natural gas and is used in gasoline blending.
Currently, refiners are allowed to use natural gasoline to create a blend stock for oxygenate blending, which eventually is blended into E15.
"Ethanol plants should also be allowed to use natural gasoline to create E85 that is eventually blended into E15," Shaw said. "A regulatory program can be instituted appropriate for blender pumps that will ensure the final E15 blend meets all specs."
In addition, he said his group opposes the RIN-reform proposals.
"This proposal puts a gun to the head of Iowa's retailers, forcing them to sell 100% of their RINs each quarter, while allowing refiners to only retire 80% of their obligation each quarter, with additional flexibility to push off that compliance into future quarters," Shaw said.
RIN reform appears unnecessary, he said, since the agency has found no evidence of market manipulation.
…
Brian Carron, executive marketing representative for renewable fuels at Dallas, Texas-based refiner HollyFrontier, spoke in favor of proposed RIN reform. Carron told EPA the company has seen market manipulation, but he did not provide evidence of that during the hearing.
…
Reynolds said EPA reforms are unjustified as small-refinery waivers already have led to a dramatic drop in RIN prices.
"RIN prices have dropped from near a dollar to where only a few days ago an obligated party could buy a 2018 compliance RIN for only 8 cents," she said. "Granting exemptions with RINs at such absurdly low prices would be detrimental to the RFS.
…
Ron Lamberty, senior vice president of the American Coalition for Ethanol, said the RINs reform would limit ethanol market growth.
"Small businesses have invested hundreds of millions of dollars in infrastructure to do the blending some refiners say they can't do, and RINs are the way those small businesses get paid for performing those services for refiners," he said.
"In effect, EPA would order small businesses to spend their money to do the blending for refiners who refuse to obey the law, and then hand over those credits at a price controlled by the refiners."
The public comment period for the proposal closes on April 15. READ MORE