Biofuel and Oil Seek Federal Help to Deal with Sharp Decline In Production and Prices
2020 Election Activities
,
BioRefineries/Renewable Fuel Production
,
Business News/Analysis
,
Environmental Protection Agency
,
Federal Agency
,
Federal Litigation
,
Federal Regulation
,
Marketing/Markets and Sales
,
Opinions
,
Policy
,
White House
(RFD TV) … Both the oil and ethanol sectors are asking the federal government to step in as each one sees a sharp decline in prices and production. Oil groups say that the pandemic pushed the industry over the edge, while it was battling an already downward demand trend.
…
"U.S. producers had responded significantly to market signals by lowering production by two million barrels per day… While the supply response was helpful, it pales in comparison to the historic drop in demand," Macchiarola (Frank Macchiarola with American Petroleum Institute) says.
The strain led to another oil sector request for ethanol waivers, a continued fight for the biofuels industry. The EPA has yet to decided on retroactive refinery waiver request. Iowa Senator Chuck Grassley says that the petitions are an attempt to work around a 10th Circuit Court decision. That would put an end to the large number of blending waivers granted by the administration.
"If the EPA ends up accepting these petitions, not only will they lose again in court, they will also risk President Trump's support in Iowa and other Midwestern states. This pattern of RFS abuse must end. Administrator Wheeler should publicly dismiss these ridiculous petitions as soon as possible," according to Sen. Grassley.
READ MORE
Excerpt from Seeking Alpha: Two factors have had an outsized impact on the ethanol sector's improvement. The first has been the partial recovery of U.S. gasoline demand. While the fuel's consumption remains approximately 20% lower than is normally seen in June (see figure), it has increased by 50% from April's lows. Ethanol demand is closely tied to gasoline demand since almost all of the former is blended with the latter prior to retail, and the collapse of gasoline demand that occurred earlier this year was the primary cause of the ethanol sector's poor production margins. Improved gasoline demand has therefore translated to higher ethanol demand.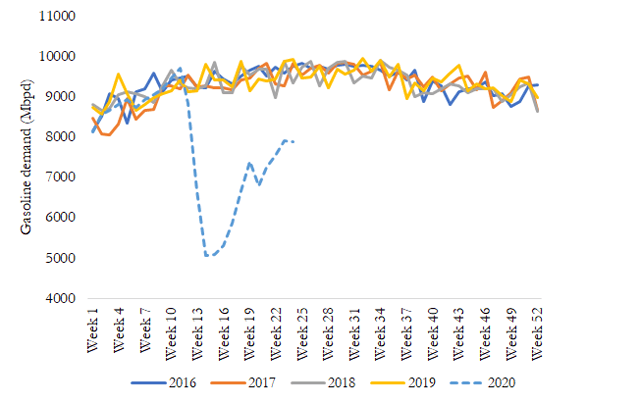 Source: EIA (2020).
That said, ethanol demand has recently rebounded by more than would be expected just based on the recent gasoline demand trend. Weekly ethanol blending volumes by the refining and wholesale/retail segments are only 15% lower than the normal volume for this time of year (see figure), having increased by almost 60% from April's lows. As I wrote earlier this month, Renewable Identification Number [RIN] prices have surged since early April, increasing the incentive to blend ethanol under the revised Renewable Fuel Standard [RFS2] biofuels blending mandate. It is possible that the superior recovery of ethanol demand is attributable to this development.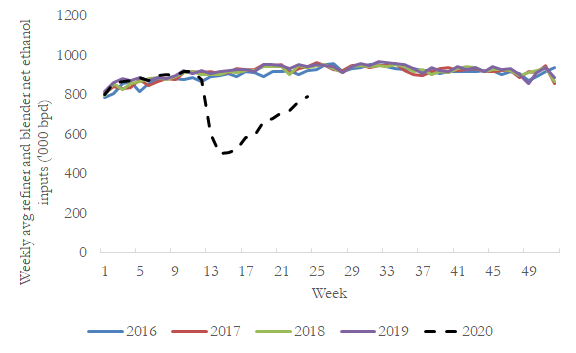 Source: EIA (2020).
More directly, ethanol production margins have benefited from the continued strength of ethanol's price premium relative to the price of gasoline (see figure). While this has declined from the extreme ratio that was reached in March and April as rapid demand disruption occurred, it remains well above the long-term average. A strong ethanol price premium often reflects a dynamic in which ethanol demand is stronger than gasoline demand, as appears to be the situation now. READ MORE