University of Botswana Biodiesel Research Project Yields Positive Results
(University of Botswana) The University of Botswana research indicates that Botswana has enough feedstock to yield more than 15 million litres of B20 biodiesel annually, thus slowly turning into reality Botswana's dream to become a biodiesel producing country.
The data collected so far suggests that Botswana had enough feedstock to support a biodiesel plant with a capacity to produce approximately seven tonnes of biodiesel per day. The leading Researcher, from the Faculty of Engineering and Technology at the University of Botswana Professor Clever Ketlogetswe, said "normal biodiesel is blended with conventional diesel, therefore if we go for 20 percent blend biodiesel (B20), we should be able to produce approximately 42 000 litres of B20 daily [and] this could translate into over 15 million litres of blended (B20) annually."
This was revealed at a tour of a biodiesel processing facility at the University of Botswana on September 21, 2021. Professor Ketlogetswe said if the country were to go for low blending ratio below of 20 percent, the total volume of blended fuel increase and a significant import bill reduction on road fuel could be easily realised. The University of Botswana has been conducting research under the Biofuels Research Project focusing on three areas – data collection for potential biodiesel feedstock, biodiesel production and analysis or performance testing as well as assessment of potential socio-economic and biodiesel production environmental impacts in the country.
To demonstrate feasibility in the production and use of biodiesel in Botswana, Professor Ketlogetswe announced that since commencement of the project, the UB research team had been running its research vehicle on B100 biodiesel and other blends from B10 to B50. "Today we are extending the use of B50 to one of the University of Botswana trucks," he said.
So far, the vehicle's performance has shown positive results especially in fuel consumption, emission levels and other performance related tests. Therefore, extending the use of biodiesel to one of the trucks was a major milestone for the University of Botswana research project.
"Our intention from here is to engage the University Management to consider using B20 [biodiesel] for all the University of Botswana fleet running on diesel. As we speak, we have enough biodiesel to produce 6000 litres of B20," said Professor Ketlogetswe.
Accordingly, he said the University of Botswana had also been able to develop high level competency in biodiesel production using different feed oils such as animal fats, waste cooking oil and plant oils. Further, there are a number of graduates in the area of biofuels with more expected to graduate soon. The Ministry of Mineral Resources, Green Technology and Energy Security is sponsoring the project at an amount of P18.7 million for a period of two years from May 2019. For the 2020/21 financial year, the University of Botswana received P2.1 million to cover the three focus areas. In addition, the ministry recently released a total of P1.9 million which the University intends to use to fully equip the biofuel testing laboratory and apply for its accreditation so that it could become a National Testing Centre for biofuel.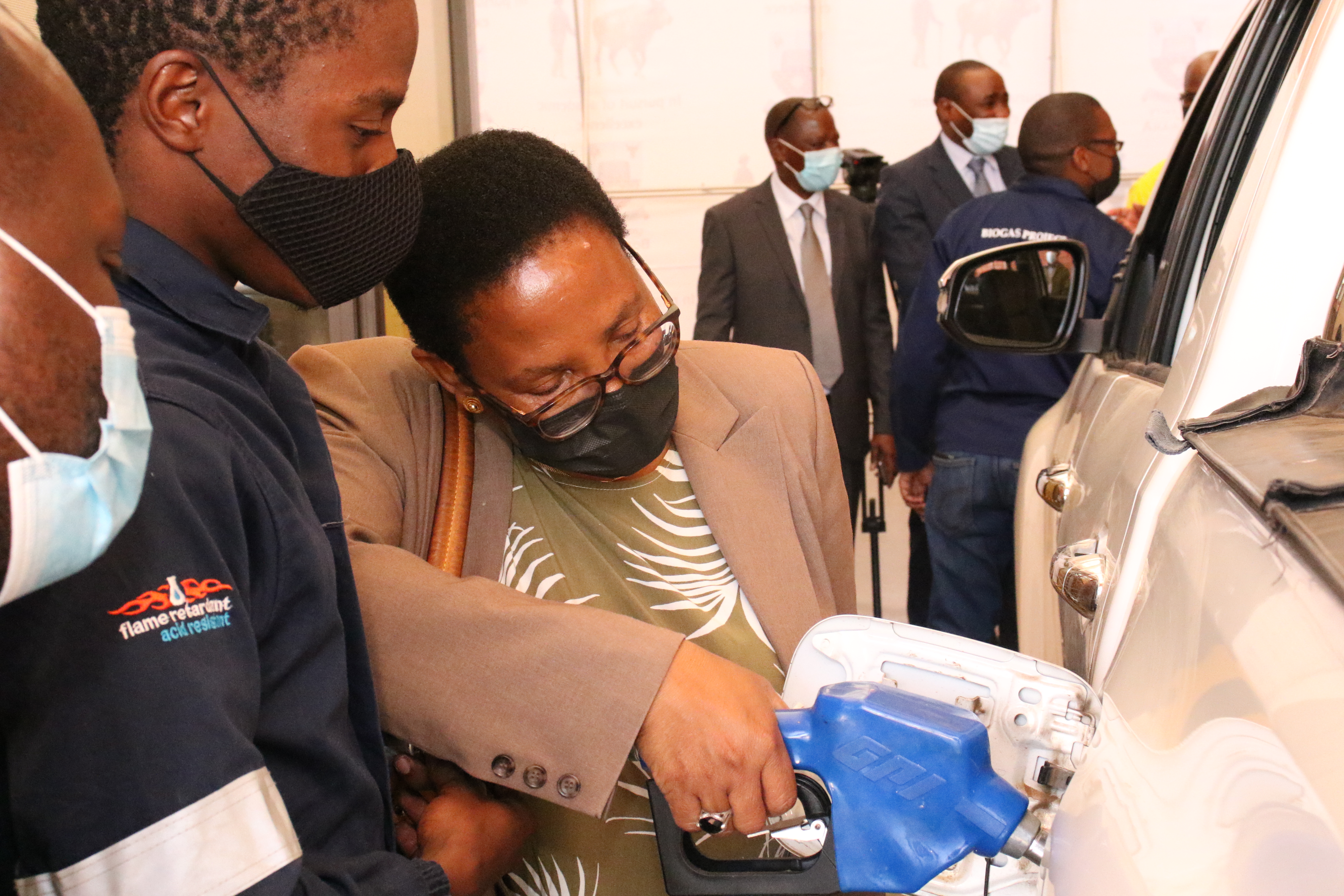 "I am delighted to say that the team here has delivered on the outputs set out, as this will undoubtedly be shown in the report," said Vice Chancellor, Professor David Norris. He was welcoming Permanent Secretary in the Ministry of Mineral Resources, Green Technology and Energy Security, Ms Ellen Richard-Madisa and other national stakeholders for a tour of a biodiesel processing facility.
The Director of the Department of Energy in the Ministry of Mineral Resources, Green Technology and Energy Security, Mr Midas Sekgabo, explained that as of December 2021, the biofuels research project was at 64 percent against a target of 69 percent. Meanwhile, another implementing partner is the Department of Agricultural Research (DAR) in the Ministry of Agricultural Development and Food Security.
Mr Sekgabo said DAR's focus was on characterisation of plant oils-yields, surveying areas of feedstock yield as well as to come up with distribution maps while the University of Botswana provided research support and technical expertise.
Among the dignitaries who attended the ceremony were Chief Executive Officers of Botswana Energy Regulatory Authority, Mrs Rose Seretse, Engineers Registration Board, Mr Dennis Olaotse, and Botswana Oil, Mr Meshack Tshekedi. READ MORE