Greener to the Island: DB Sylt Shuttle Refuels with Climate-Friendly Biofuel
(Deutsche Bahn (Google translation)) From now on, diesel trains on the Sylt Shuttle and Sylt Shuttle Plus will refuel with the climate-friendly biofuel HVO • Around 90 percent less greenhouse gas emissions • By 2025, Deutsche Bahn will also switch the remaining two percent of long-distance diesel transport to HVO
Deutsche Bahn (DB) is continuing to drive the green traffic turnaround on the rails: Both the Sylt Shuttle and the Sylt Shuttle Plus are now running between Westerland and Niebüll with climate-friendly HVO (Hydrotreated Vegetable Oil). By saying goodbye to diesel, around 7,500 tons of CO2 are saved each year on the popular railway line to and from Sylt. The biofuel used by DB consists exclusively of biological residues and waste. This means that no specially cultivated biomass is used, so that competition with food and feed production is ruled out. In addition, the biofuel is free of palm oil.
"With the use of biofuel in the Sylt Shuttle, we at DB are taking another step towards phasing out diesel and becoming climate neutral," says Stefanie Berk, Board Member for Marketing at DB Long-Distance. "By 2025, we will convert the last remaining two percent of long-distance diesel-powered routes to biofuel and thus set a further example for climate protection. These are Erfurt - Gera and the route between Immenstadt and Oberstdorf. DB Fernverkehr operates all other routes with 100% green electricity. The train is already the most climate-friendly means of transport. With the new HVO fuel, DB saves around 90 percent of CO2 emissions on Sylt traffic."
Schleswig-Holstein's State Secretary for Transport, Tobias von der Heide, was also enthusiastic about the climate-friendly DB offensive. "Above all, this is a valuable contribution to environmentally friendly tourism in the Wadden Sea National Park." Only in this way will we be able to travel completely emission-free in the long term and, on top of that, significantly reduce travel times. Incidentally, I can feel the wind behind me for this project from the entire west coast."
"An important contribution to improving Sylt's climate balance," explains Holger Weirup, Deputy Mayor of Sylt. "As a tourist destination, Sylt has a special responsibility. If you look at the annual emissions, arrivals and departures by various means of transport are in a ratio of about 1:2 to the total emissions generated on the island. Although the Sylt shuttle only contributes to emissions to and from the destination, every opportunity to reduce it is important and sends a signal, especially in this area."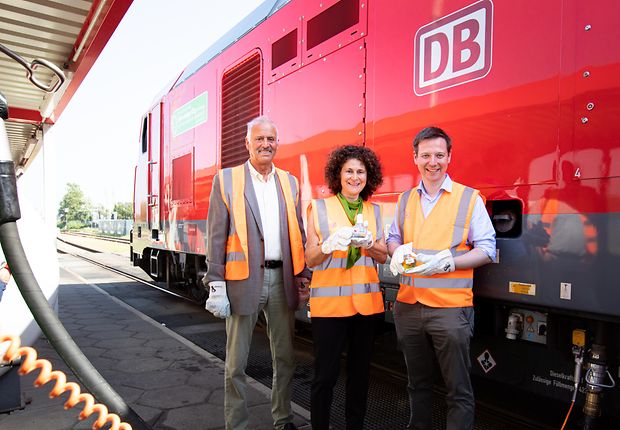 [14]
Holger Weirup, deputy mayor of the municipality of Sylt; Stefanie Berk, Head of Marketing DB Fernverkehr; Tobias von der Heide, State Secretary for Transport in Schleswig-Holstein
The use of biofuel is also a benefit for the protection of resources, because it can be used without costly conversions to the vehicles. Fully functional trains and locomotives do not have to be discarded prematurely, but are much more climate-friendly with the same performance. READ MORE
The vehicles are refueled at DB's first regular HVO rail filling station at the Sylt Shuttle Terminal in Westerland. This can also be used by other railway companies without discrimination.
Tags
Share
More than 40,000 articles in our online library!
Use the categories and tags listed below to access the more than 40,000 articles indexed on this website.
© 2008-2023 Copyright Advanced BioFuels USA. All Rights reserved.