#FPS22 Legislative Panel on Outlook for Biofuels
by Cindy Zimmerman (Energy.AgWired.com)Agri-Pulse editor Sara Wyant moderated a legislative outlook panel of mostly Midwest lawmakers in the Syngenta tent at Farm Progress Show Wednesday.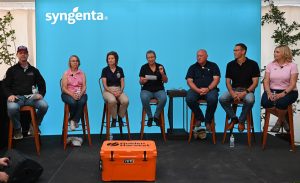 Joining Wyant were (L-R) Reps. Rodney Davis (R-IL); Mariannette Miller-Meeks (R-IA); Vicky Hartzler (R-MO); GT Thompson (R-PA); Randy Feenstra (R-IA); and Ashley Hinson (R-IA).
The discussion included what might happen if Republicans regain the House, farm bill planning, the "Inflation Reduction Act," and biofuels.
Rep. Davis, who lost his re-election bid this year in a redistricted primary, said the Congressional Biofuels Caucus needs to stick together to keep ethanol and other biofuels moving forward. "There's always going to be an attack on our ethanol system and our biofuels processing…and it's a bipartisan attack," said Davis. "We can't introduce legislation that splits the biofuels caucus because it only gives the anti-biofuels folks more reason to go after our policies and programs."
House Agriculture Committee Ranking Member GT Thompson, who is from Pennsylvania, said the biofuels industry also needs to work with the oil industry. "We need to serve as marriage counselors because we need both aspects of the energy family to come together," said Thompson. "Because the alternative is this stupid idea of electric vehicles." READ MORE; includes AUDIO of panel discussion
REP. FEENSTRA OUTLINES 2023 FARM BILL PRIORITIES AT FARM PROGRESS SHOW (Brownfield Ag News; includes AUDIO)