World Sustainability Symposium (WSS) --- October 3-4, 2023 --- Madrid, Spain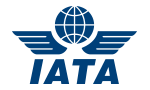 As governments are now aligned with the industry's commitment to decarbonize aviation by 2050, IATA's World Sustainability Symposium (WSS) will bring together industry and governments to debate and discuss the key enablers for aviation's successful decarbonization.
The aim of WSS is to gather and support the global community of sustainability experts needed to realize aviation's biggest challenge ever.
The WSS will facilitate critical discussions, in seven key areas:
The overall strategy to achieve net zero emissions by 2050
The crucial role of government and policy support
Effective implementation of sustainability measures
Financing the energy transition
Measuring, tracking and reporting emissions
Addressing non-CO2 emissions
The significance of value chains
Who will you meet?
The WSS will bring together a diverse group of delegates and representatives including:
Airlines
OEMs
ANSPs
Airports
Solution providers
Policy-makers
Regulators
Banking and financial institutions
Researchers
Thought-leaders READ MORE
Share
More than 40,000 articles in our online library!
Use the categories and tags listed below to access the more than 40,000 articles indexed on this website.
© 2008-2023 Copyright Advanced BioFuels USA. All Rights reserved.