The Future of Biofuels Discussed at the Congressional Hispanic Caucus Institute Leadership Conference
by Joanne Ivancic (Advanced Biofuels USA) I was pleased and excited to be invited to speak on a "Future of Biofuels" panel at this fall's Leadership Conference of the Congressional Hispanic Caucus Institute, whose purpose is "Developing the Next Generation of Latino Leaders®." Sponsored by the American Fuel & Petrochemical Manufacturers, Growth Energy, POET and PB America, the panel also included Brooke Coleman of the Advanced Biofuels Business Council, Thomas Miller of BP Products North America, Inc., and Chet Thompson representing AFPM.
Manuel Quinones of E&E News moderated a lively discussion that was kicked off by presentations from Congressman Ruben Gallego (D-AZ 7th District) and Congressman Bill Flores (R-TX 17th District). Congressman Flores, who in the past, along with AFPM, has championed legislation to restrict ethanol blends to 9.7% of the market, talked about legislation being discussed that would address the need for high octane fuels.
He was reminded that US Department of Energy studies have shown high octane ethanol fuels with 20-40% ethanol can be least expensive and most effective fuels for increasing mileage and performance while decreasing carbon footprint.
With a panel representing extremely diverse views and interests about the present and future of biofuels, the audience was treated to animated exchanges that delved also into the past of biofuels when companies like British Petroleum touted themselves as "Beyond Petroleum" and had significant investment in advanced biofuels research. Although BP as divested from biofuels investments, other Big Oil companies continue some level of engagement in this developing industry worldwide.
We also enjoyed insightful questions and observations from the audience on a number of topics. For example, representatives of Southern California Gas Company highlighted the future of biogas and renewable natural gas in the transportation sector, providing first-hand information about their initiatives increasing use of renewable natural gas (RNG) in California's transportation.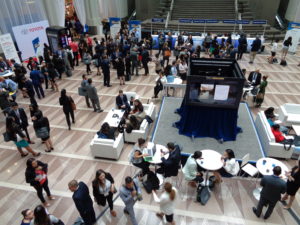 Conference Overall
As a guest I was able to attend all conference activities and valued the opportunity to meet and mingle with people, many in college or early in their careers, and talk about their ideas, perceptions and concerns related to biofuels and environmental issues.
With many engaged in activities in Washington, DC, we often discussed the connections between policy and science and the importance of communicating about science, and biofuels in particular, to policy-makers. As a result of some deep conversations with aspiring political leaders, with professionals working in advocacy groups and government agencies, and with many students, I became more inspired to double my efforts to improve the organization's interactions with, and resources for, students and young professionals.
One step in that direction that grew out of the CHCI Leadership Conference: we are seeking interns from the Archer Center, the University of Texas System in Washington, DC.
We have also begun working with a "beta test" of a "shared mission organization" relationship with a biofuels club that is being formed at Auburn University and have developed contacts at Rhode Island University, in addition to continuing our interest in the CABLE program organized by The Ohio State University.
We will soon have an improved student-focused section of our website. Watch this site!
Tags
Share
More than 40,000 articles in our online library!
Use the categories and tags listed below to access the more than 40,000 articles indexed on this website.
© 2008-2023 Copyright Advanced BioFuels USA. All Rights reserved.