The Fuel for Thought Podcasts --- Ongoing --- ONLINE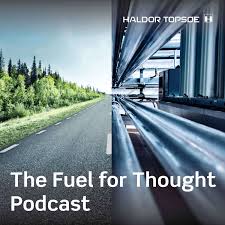 The Fuel for Thought Podcast is the world's first podcast about renewable fuels. Sylvain Verdier and Mikala Grubb from Topsoe, look into some of the most pressing topics about renewable fuels, covering the whole value chain of renewable fuel production, including feedstock supply, conversion technology, legislation, sustainable aviation fuel and much more. Together with a series of key industry players, experts, and influencers they discuss some of the challenges facing the industry, so you can benchmark your business, learn more about what is driving our industry and where it is heading.
Season 1 | Season 2 | Season 3 | Season 4 | Season 5
some examples:
Biofuel production has taken off. Are you ready?
Season 3 | Episode 1
Since the last season of The Fuel for Thought Podcast, the global renewable fuel industry has seen a surge in projects and interest in sustainable aviation fuel. Mikala and Sylvain are kicking off the new season with a discussion of what changes the industry has been through, and where it is headed. In this episode, they will share their thoughts on the current trends in the global renewable fuel market, touching on everything from new biofuel initiatives to the rise of hydrogen – and more. LISTEN
Will the new North American renewable legislation start another gold rush?
Season 4 | Episode 2
North America have recently seen the implementation of highly ambitious initiatives to support the production of renewable fuels, especially for the road and aviation sectors. The Inflation Reduction Act, the potential change of the Low Carbon Fuel Standard (LCFS) in California and the Canadian Clean Fuel Regulations are game changers for renewable fuels. In this episode, Sylvain talks to Tammy Klein from Future Fuels Strategies and Fred Ghatala from Advanced Biofuels Canada about the new mandates, incentives and greenhouse gas (GHG) savings targets being implemented at both state, province and federal levels. There's a lot to cover in a short time, so let's get started! LISTEN
Tags
Share
More than 40,000 articles in our online library!
Use the categories and tags listed below to access the more than 40,000 articles indexed on this website.
© 2008-2023 Copyright Advanced BioFuels USA. All Rights reserved.