Scaling Up 2023: The Future is Now --- November 6-8, 2023 --- Ottawa, Ontario, Canada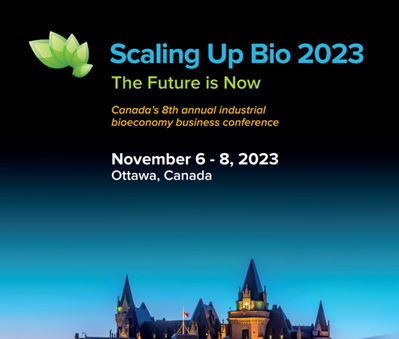 With 348 million hectares of forests and over 60 million hectares of agriculture land, with urban centres struggling with what to do with organic waste and a massive deficit in bio-based district energy systems, Canada has a world leading $200 billion/year opportunity to capture a material portion of the industrial bioeconomy market.
The US (and some 60 other countries) is showing the way. Canada needs to get serious and launch a national industrial bioeconomy strategy that sends signals to the market that this country is a place of certainty where companies can reliably do bioeconomy business. The alternate – importing rather than exporting bio-based products to a world hungry for low carbon materials - is economic and environmental folly.​
Scaling Up Bio 2023 will provide the answers. Make sure you are there to be part of the solution.– Jeff Passmore, Founding Chair, Scaling Up READ MORE
"The world is on the cusp of an industrial revolution fueled by biotechnology and biomanufacturing. Emerging biological technologies are and will continue to transform the foundation of our physical world – everything from clothing, to plastics, to fuels, to concrete. Through biomanufacturing, sustainable biomass across the United States can be converted into new products and provide an alternative to petroleum-based production for chemicals, medicines, fuels, materials, and more."​
- 'Bold Goals for U.S. Biotechnology and Biomanufacturing' - The White House Office of Science and Technology Policy, the U.S. Department of Energy, U.S. Department of Agriculture, U.S. Department of Commerce, U.S. Department of Health and Human Services, U.S. National Science Foundation - March 2023​
"It is the policy of my Administration to coordinate a whole-of-government approach to advance biotechnology and biomanufacturing towards innovative solutions in health, climate change, energy, food security, agriculture, supply chain resilience, and national and economic security. Central to this policy and its outcomes are principles of equity, ethics, safety, and security that enable access to technologies, processes, and products in a manner that benefits all Americans and the global community and that maintains United States technological leadership and economic competitiveness.
"It is the policy of my Administration to…improve and expand domestic biomanufacturing production capacity and processes…boost sustainable biomass production and create climate-smart incentives for American agricultural producers and forest landowners"​
- Executive Order, The White House - September 2022​
"The direct economic impact of the Bio Revolution could be up to $4 trillion a year over the next ten to 20 years. More than half of this direct impact could be outside human health in domains such as agriculture and food, consumer products and services, and materials and energy production."
- McKinsey Global Institute "The Bio Revolution: Innovations transforming economies, societies, and our lives," - May 2020
Tags
Share
More than 40,000 articles in our online library!
Use the categories and tags listed below to access the more than 40,000 articles indexed on this website.
© 2008-2023 Copyright Advanced BioFuels USA. All Rights reserved.