One Minute Video: The Use of Biofuels--Purchase Consciously
by Hannah DelSordo* (Advanced Biofuels USA) Created for Dickinson College's Eco-Reps fall mission of People, Planet, Prosperity, this lively video helps people learn more about biofuels in order to consciously purchase vehicles that can reduce their carbon footprint. WATCH VIDEO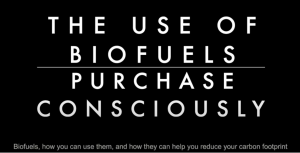 *Hannah DelSordo expects her BA in International Studies and French from Dickinson College in 2022. She's interested in doing public relations work for an environmental nonprofit.
Share
More than 40,000 articles in our online library!
Use the categories and tags listed below to access the more than 40,000 articles indexed on this website.
© 2008-2023 Copyright Advanced BioFuels USA. All Rights reserved.