GWRCCC at the Annual Conference --- October 4, 2023 --- Largo, MD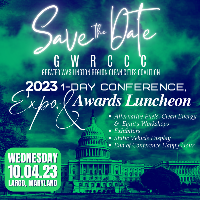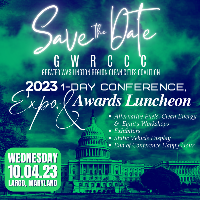 Welcome
1:00 PM -- Partner and Member Remarks
1:20 PM – Panel 1
Session Duration: 45 minutes
How to Maintain those EV Chargers
According to industry data, on any given day over 20% of EV chargers don't work. Who's responsible for keeping the chargers working? What if my maintenance agreement expired? What if I never negotiated a maintenance agreement with my EV charging company? My EV charging company went out of business or transferred my agreement? Where do I find an EV charger maintenance company?
2:05 PM – 2:15 PM—Break
2:15 PM – 3:00 PM Panel 2
Should I retrofit, lease, or buy new clean energy vehicles?
Session Duration:45 minutes
The are numerous approaches that fleet managers can take to green and clean their fleet that can save money. How do you determine if it's better to buy, lease, or retrofit vehicles to reduce emissions? How do you balance the urgency to replace vehicles with the total cost of ownership, energy costs and challenges with the supply chain? Learn from the experts!
3:00 PM – 3:10 PM—Break
3:10 PM – 3:55 PM Panel 3
EV Mapping Tools Training
Session Duration: 45 minutes
Many public and private sector leaders are trying to meet ESG and equity goals in EV related initiatives. Learn how to use the Argonne equity mapping tool for your EV projects. Participants will also learn about other local and national EV mapping tools and resources.
3:55 PM – 4:05 PM—Break
4:05 PM – 4:50 PM – Panel 4
Working with Utilities for EVs
Session Duration: 45 minutes
One of the biggest priorities in deploying and installing EVs and EV charging should be working with utility organizations regarding power capacity, upgrades, and reliability. This session is vitally important to anyone buying, using or deploying electric vehicles. Don't wait until you order or purchase an electric vehicle to contact your utility company!
Sponsor & Closing Remarks
4:50 PM – 5:00 PM
2023 GWRCCC Pre-Conference Session Topics
Wednesday, October 4, 2023, 8:30 AM to 6:00 PM
8:30 AM -- Opening Ceremony
9:00 AM – Break
9:10 AM – Panel #1
Champions For Alternative Fuels: Why Fuel Diversity Matters - The urgency to reach zero emissions in the U.S. is a priority for many local, regional, and national leaders. The panel will discuss why there are multiple paths forward using various fuels to make short and long-term reductions in greenhouse gases and emissions transportation in passenger, light, medium and heavy-duty vehicles.
9:40 AM – Break
9:50 AM – Panel #2
Best practices for implementation of Clean School Bus Programs - The federal funding from Bi-Partisan Infrastructure has boosted awareness and created an urgency to reduce emissions from school buses in the U.S. Many schools districts' transportation, building and facilities staff will hear from industry experts on planning, negotiating tips with bus and EV charging companies, and how to navigate the land mines of politics with the public, school boards, and management.
10:20 AM – Break
10:30 AM – Panel #3
Transportation and Energy Equity Community Engagement Roundtable -Community, faith, business, and Civil Rights will share insights on Justice40, local and regional energy and transportations equity efforts, and why community engagement matters.
11:00 AM – Exhibitor Hall Opens
11:15 AM – Awards Luncheon
1:00 PM – Panel #4
Emerging Technologies in Clean Transportation - Transportation is evolving each day, and it's difficult to keep up with all of the breakthroughs, new equipment and systems in the transportation sectors. Panelists will cover some of the latest and long-standing technologies that help meet your emission reduction, transportation goals and priorities.
1:30 PM – Break
1:40 PM – Panel #5
EV Zoning & Planning Training - Attendees will receive training on planning for EVs, including how to develop local laws and zoning policies that help accelerate EV adoption and deployment. You will learn some of the nation's best practices for EV Zoning!
2:10 PM – Break
2:20 PM – Panel #6
Biodiesel for your Fleet, DC did it, you can too! The District of Columbia has received several national and regional awards for their efforts to reduce emissions by using biodiesel in their trash trucks, water trucks, street cleaners, and other medium and heavy-duty vehicles. Learn how they have cut emissions, improved air quality and become a national example for the deployment of biodiesel in public fleets.
2:50 PM Closing Panel
The Vision for the Future for Clean Energy & Transportation
3:30 PM Transition
4:00 PM Post Event Reception
6:00 PM Vehicle display Ends | Event Ends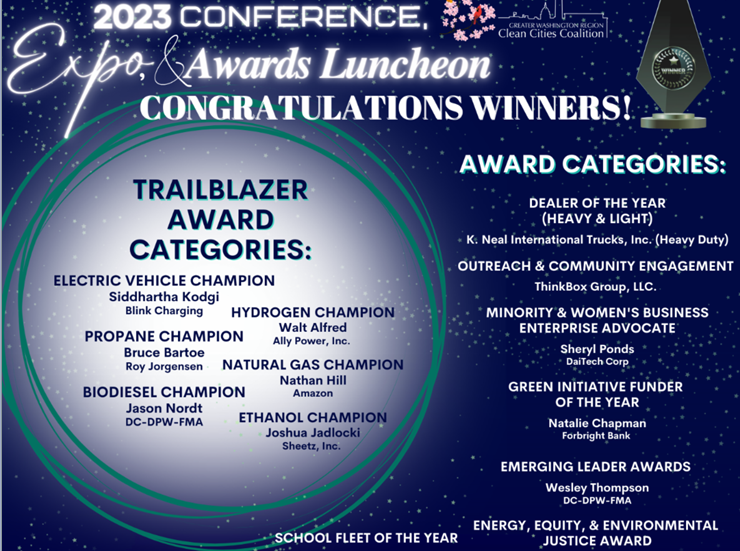 Share
More than 40,000 articles in our online library!
Use the categories and tags listed below to access the more than 40,000 articles indexed on this website.
© 2008-2023 Copyright Advanced BioFuels USA. All Rights reserved.